How To Find Great Website Keywords
We're going to use the free tool, Keyword Grouper Pro, in this video. We'll take this keyword research tool and we will break down a large keyword list into small, targeted groups. Then, we'll take the group topics and do a search at the Google Adwords Keyword Tool to find thousands of great website keywords.
Using this method, you can find many keywords your competitors overlook, simply because they didn't take this little extra step when they were performing keyword research for their blog or eCommerce website.
Website Keyword Research Made Easy
This method only take a few minutes, but you'll uncover thousands of great keywords that you can target with the pages on your site.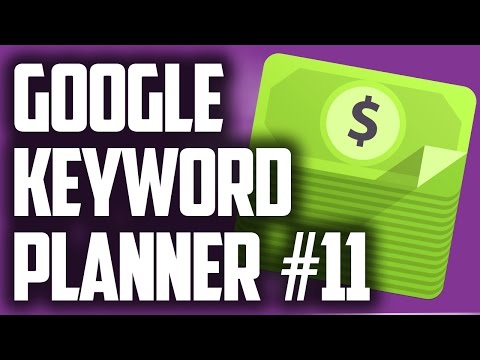 In this series I'm going to show you how to take a keyword I'm going to show you how to group that keyword into individual groups and i'll show you how to come back to the Google Adwords Keyword planner after you have those groups with new group names and get a whole bunch more keywords it's actually a lot simpler than it sounds so first of all we've gone to http://adwords.google.co and we're under the keyword planner section and I just have this term search fishing rod I've already clicked on get ideas and you'll see i have some keywords down here there's a total of 701 keywords next I went ahead and just clicked on the download button here and i've gone ahead and I pulled up that result here so this is the result of our search for fishing rod and I've selected all the keywords here that are in this reports there are 701 of these next I'm going to use a free tool called Keyword Grouper Pro and i'll leave a link for this free tool down in the comments section of the video I'm just going to go ahead and paste that into here and that will paste all the keywords there i'm going to set the minimum group length really low at two and the excluded words list i'm going to go ahead and put in the word fishing and i'm also put in the word rod because we know those were the two words we used in the Google Adwords Keyword Planner i'll set the excluded words list and i'll click on process keywords now Keyword Grouper Pro is going through the entire list and building groups of keywords from that list you'll see now we have 150 groups that have at least two or more now you'll notice right away we have 23 keywords that are grouped by the word by the word fly so fly rod fly-fishing rod fly-fishing pole there's rods plural so that would be one to follow after fishing rods beach fishing rods ok then we've got gear fishing gear fishing poles fishing tackle so these are really really really tight keyword groups now what we're going to do here like we did in video 9 but we're going to make one change we're going to put the word fishing in front of these terms because this grouped them by individual terms so we've got fly rod fly fishing rod and fly fishing pole let's work with these three right here just to keep things simple so where is fly rod fly fishing rod and fly fishing pole so come over here and I'll hit modify search and i'm just going to put in an individual keywords at a time so I'll do fly rod i'll click on get ideas give it a second to find those keywords for us ok so here we go fly rod we have 701 terms there I'll go ahead and hit modified search and i'll put in fly fishing rods again these are just the group names of the group names that we got and the individual items within those group names in this case so fly-fishing rod again 701 terms and i'll click on modify search and it was what was it fly fishing pole ok so fly fishing pole and I'll go ahead and click on get ideas and we'll get probably 701 results so in now and there's going to be a little bit of overlap here i think this fishing rod is popped up each time so there will be some overlap here one thing you can do is you can click on keywords to include and I could put the word fly and hit save and that would make sure at least the keywords had the word fly in it so now we see there's 317 of these keywords so we got fly rod fly fishing gear fly-fishing rod fly reels by fly fishing equipment and you'll remember how we got here was by using groups so you could take these individuals so fishing rods fly fishing rods are fishing gear fishing pole and you go down through now remember there's 150 groups we created here so we get down here we get some pretty cool stuff like deep-sea fishing rods or deep sea fishing tackle ok let's try that one again let's go over here and do deep-sea modify search and we'll do deep-sea and we'll just do fishing and click on get ideas and you'll see it just brought back about 6 results so because we have you've got to watch that so we have this here as the would fly so we'll just remove that and that should greatly expand our results here so here we go 701 and then if we want to make sure that include deep-sea we'll just put that as a modifying term and make sure they all have deep sea and then now we go 267 results that just deal with deep sea and fishing ok so you'll see all the deep-sea terms there so this is a really really great way to take any topic drill deeper into that topic with the Google Adwords Keyword planner then head over to Keyword Grouper Pro paste your terms in get your groups back then take your group titles ok take your group titles come back to the Google Adwords Keyword planner throw them into google adwords keyword planner you can do the keywords to include if you want some filtering there and then just download those results you're going to build a list of thousand the keyword many of which are competitors aren't going to have seen because again they are not using the tool like you're using it you're doing a much better job of using Google Adwords Keyword planner in a really smart way if you like this video give us a thumbs up if you have a question or if you want us to make another video about the Google Adwords Keyword Planner or something about it go ahead and leave a comment section leave a comment in the comment section below and make sure to subscribe to the MarketBold channel for more videos like this we cover tools tips and tricks for marketing professionals trying to make your job a lot easier and we really appreciate you taking the time to watch our videos