What Are Campaign Level Negative Keywords
In this video, I'll give you a really quick example of the difference between a campaign level negative keyword vs. the adgroup level negative keyword.
There are specific reasons why it is important to put negative keywords at the adgroup level or the campaign level. In this video, you'll also see exactly where to go in your Adwords account to put in these negative keywords.
What About AdGroup Level Negative Keywords
AdGroup level negative keywords can be placed on the same page as the campaign level keywords. It is also important to understand the different negative keyword match types so that you are actually filtering out the traffic that you think you are and are correctly targeting the right audience.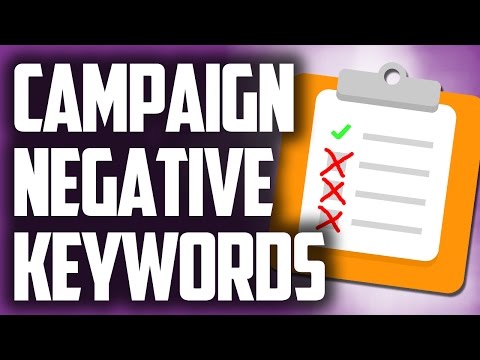 Here's a quick explanation for negative keywords at the campaign level versus the ad group level so I've gone over to http://adwords.google.com and i've logged into my account and you'll notice i clicked on the keywords tab here and then I clicked on the negative keywords tab right here and i've gone ahead and expanded these two sections here so you can see them but you'll see here this is the ad group level and this is the campaign level and I have the option here to choose an ad group over here i have the option to choose a campaign you'll see in this side of put the three different types of negative keywords this is the broad match negative keyword the phrase matching a keyword and the exact match to get a keyword if you're not familiar with how the negative keyword match types works there will be a link in the description that will give you a good overview of how the negative keyword match types work and I've done the same on the campaign side obviously the difference here is that if you put negative keywords at the ad group level and then choose a specific ad group you'll only be keeping ads within that ad group from being shown for these negative keywords however if you add negative keywords at the campaign level you will keep your ads from being shown any ad within the entire campaign will not be shown for these terms so there is very specific reasons why you would want to put at the campaign level versus the ad group level but you do need to know that if you think you're adding negative keywords for all the ads in a campaign you want to make sure you put them at the campaign level and don't accidentally just put them in the ad group level and vice versa so it just takes a second to add your negative keywords once you've pasted them in you can click Save again i'll put a link in the description for a great way to find negative keywords if that's what you're looking for but this is the best way to make sure your ads are not showing to people that really shouldn't be seeing them because they're not part of your target audience