Great Content Ideas For Your YouTube Channel
This video has some excellent video content ideas for producing great videos on YouTube. Everything from filming batches at a time, to how to get more mileage out of each video is covered. It also covers how to use snippets for both Instagram and Facebook.
If you're struggling to create great content for your YouTube channel, this video will help you see some very unique angles and tips. You'll get help on how to plan out the content as well as get additional views to your videos.
Having A YouTube Editing Template Helps
To make sure you get the most out of your time when creating content for your YouTube channel, you'll want to pay attention to all these tips. Using the methods here, you can create a great channel filled with excellent videos.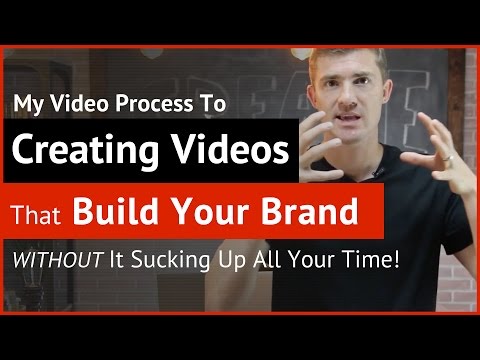 Hey entrepreneurs it's brandon from soldwithvideo.com and today we're going to talk about how to actually produce a lot of different types of content so that you can create content put out video without its sucking up all your time [Music] so the biggest way we like to do this is what we call matching will actually go and record multiple videos at one time that way I'm not sitting here and filming a video and scripting video then editing a video and then moving on to the next one we actually plan out a series of videos and we spend a couple hours just recording those videos now this is the process I use with my clients and I do for my channel so what we want to do is walk you through that process and give you guys some tips on how you can actually batch your content so that you can film like two or three months worth of videos in one or two days so here we go so tip number one is like I said it's called matching we're actually scripting out and you're outlining and filming multiple videos in one day so right now this is actually the second video of the day that were actually filming now here's a couple tips that you can use and that you will need in order to make it look like you're not matching your videos tip number one is to actually change your shirt like change your outfit that you're wearing now this is something i'm not doing today like I'm being a little lazy about it and I'm going to be wearing the same shirt so a lot of videos are basically going to be me wearing the same shirt you know what maybe I will maybe i'll take my own advice and go put on another shirt for these next couple videos about the film but other things you could do is change out different things in the background for me one of the things we want to do is have a different word on our chalkboard in the background of every type of video so our first couple videos are in the things going to be creating the next one maybe motivate inspire do good things and be a good person so having a different background working like that would be another way to switch it out so it doesn't look like you're wearing the same thing and having the same thing on one day that's gonna help people realize that you're not matching or make it look like it's a new video every single time so that's tip number one do batching wear different clothes in your shoots different shirts and then if you can change the background like you have a chalkboard whiteboard go ahead and do that as well now tip number two is to actually have a process and editing process in place so that way you're not actually being creative with every single video you do that yes there is some kind of creativity that comes into it release you know like my video is going to have an intro so I got a record the intro that it's going to have a content that you have a call to action that's gonna have an end hard and you know the process you can also come up with lower thirds and go to videohive dotnet and have template lower thirds which is what we do have a template in logo reveal that you use your icons that come up your social media icons that come up have a template that way you can just import it each time another tip we like doing is we like clapping three times after a good take that way when I go to the editing my editing team goes to the editing they look at where three clubs are they take the piece in front of that and they just push it all together so the way we added our videos as they go through the footage they find three claps they take the footage in front of that and they do that all the way through my 15 minutes of footage raw footage push it together to form six minutes worth of content and then they overlay our template lower thirds our template it on icons and all of that stuff then they can zoom in or switch between the different cameras to mix it up to make it all look consistent but we know the process we have an editing team in place that knows the process its template eyes we have designated fonts and colors that they use so we have every style video we do has a template and procedure they need to follow in order to push out a Content that way i spent two hours filming videos they go and they start editing all the videos and we can get three two to three months worth of content done and like one week and that's just one week or two weeks out of our time to have three months worth of content that number to make the editing process as much of a system and a procedure as you possibly can so tip number three is actually produced different styles of content for your different social media platforms so we started with you too but now we're going into Instagram are going into snapchat and we're going into facebook as well each platform need two different style of video so for example with this video right here what we're going to do is actually take a 60 second clip of it and put it on Instagram going to take a very solid piece of content out of this video created into a 60 second piece and then we'll put an ending on it says get to watch the full video on in our social media profiling and Instagram go to click on the bio writer this is a tip actually got from my business partner and friend Sonny Leonard is he who does this with her social media platforms she'll do that little teaser thing and that's what you do with instagram because instagram only allows a 60 second clip now if we're going to facebook we're doing two versions of our video so they edit the Youtube version then I say every youtube version needs to facebook versions number one again we use the Instagram version the 62nd which will tell them to click on the link to watch the full version on youtube which means i get my social media following over to my youtube video another tip from suneel energy that we picked up and then we have a full version of the Youtube version that goes on to facebook which will have a different ending on it that's designed for facebook so we'll have a little thing says click on the link in the description for or whatever are called action is will have things like our page and things like that this way we can actually upload the full version onto facebook as Facebook content so what we're going to start doing is uploading our videos onto youtube and then we'll do the little teasers like what sending will introduce he does and teaches inside her facebook group and inside her course possible branding where you put up these teasers to drive people to your YouTube channel but what we want to start doing is also creating full versions of those to put on our social media platforms so that we have content so maybe a month or two after the youtube video is going up all upload the full version on facebook and promote it and get it some more views and get that content viewed hopefully grow our Facebook following now the reason why we do that we want facebook following so we can advertise his people and build warm traffic and build a bigger audience on all of our social media platforms so those are our biggest tips let's just recap really quick number one what you want to do focusing on is batching out plan out the content figure out the topics you want maybe do a brief outline or script for h1 and then film change shirts change the background if you want to and just filming why spend one day filming all videos and that's what we do with him up for myself and for my client then have an editing process in place where you know you have template a template where the the first part can be this and then not and not and then have a template editing styles that you can use over and over and over again and the final thing is to make sure you have the different versions for each platform to take one video and export render out a couple different versions with a couple different endings or sizes so that you can mold multiply it in multiplayer effort and broadcast it on all your different platforms Instagram Facebook YouTube and everywhere else you want to do it so that's it for this video if you enjoyed it let me know and if you want to attend our free whether it's going to show you how to create a channel and youtube videos that sell for you so you don't have to go ahead and register the link below or up here is an automated webinar playing right now so go register for that and learn how to do that is brandon from soldwithvideo.com on the next one [Music] as a smart entrepreneur I'm sure you recognize that video this excitement freaking videos all of your time so keep watching nope that's awful close that door