One of the best ways to find great keywords
In this video, I'll show you a technique using the AdGroup titles in the Google Adwords Keyword Planner to help you find thousands of great keywords for your website. Since everyone else is using a very basic method with the GAKP, you'll be able to dig up keywords that your competition is overlooking.
In this video tutorial, we'll work with the keyword "fishing" and we will drill into the Google Adwords Keyword Planner to find even more ideas.
How To Find Even More Keywords Quickly
If you want to take this method to a whole new level, you could input your keywords into the free tool Keyword Grouper Pro and you could then take those keyword groups and get thousands of additional keywords directly from the GAKP.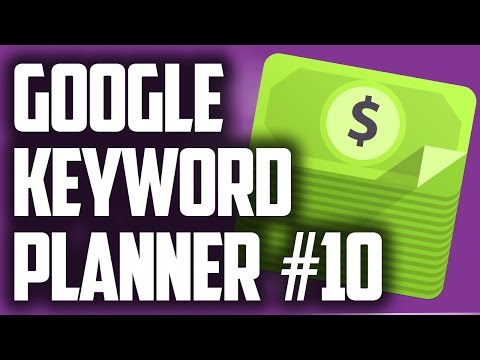 This is video number 10 in our Google Adwords Keyword Planner advanced training and if you've made it this far in the series you have tens of thousands of keywords already in your keyword search file that your competitors don't have because you're using very unique techniques very cool twists on the Google Adwords Keyword Planner to come up with ideas you'll remember the very first video we mentioned that you have to use the Google Adwords Keyword planner differently if you want different results than every other person out there that is trying to use this tool so in this video it's no different we're going to go ahead and click on search for new keywords using a phrase website or category I'm going to go ahead and type in the keyword fishing i'll click on get ideas and in this video I'm going to show you how you can use the AdGroup ideas to find lots of additional keywords so i put in the keyword fishing and you'll see right down here i have this tab for ad group ideas i'm gonna to go ahead and click on that and you'll notice that when i do that i get this term fishing pole fishing sale fishing lures fishing gear cheap fishing fishing equipment fishing reels bass fishing fishing shop so basically google has tried to group these keywords that we that they suggested the keyword ideas section and then they put the keywords into individual groups now what you're going to want to do is to write down or copy these individual group titles so fishing pole fishing sale lures gear we'll start with this fishing reels right here we're going to go right to the top and click on modify search and this time we're going to put in fishing reels and we'll click on get ideas so we're taking the Adgroup titles in other words the the things that Google grouped by and we're going back and putting the individual items back into the Google Adwords Keyword Planner and you'll see now we have 701 keywords and they deal with fishing reels ok but then you'll notice in this there was also some that deal with rod fishing rod ok so we'll come back up here modify search and we're going to do fishing rod and we'll hit get ideas so you could just continually do this for each topic then also don't forget you can do this for the subtopics so the initial key word we use was fishing then we clicked on AdGroup ideas and we got the idea for fishing reels then we put that here and then we saw fishing rods will put fishing rod we could now click on AdGroup ideas within the fishing rod search and we'll see there's fishing pole come down here fishing gear reels so we can get additional AdGroup ideas even from our sub categories so basically you're just going to have a notepad file or even a piece of paper and a pen is enough and you're going to write down the AdGroup idea title so the individual ones and then you're going to come into the Google Adwords Keyword Planner and do an individual search on those you could then click on the AdGroup ideas again and find additional group titles and each time you're going to get back a whole bunch of terms okay so we have 700 terms for our fishing rod and you're gonna break that down now if you already had fishing rod on your keyword list you might think why would have already thought of that anyway but you'll find as you get deeper and deeper into these groups there will be AdGroup ideas that you didn't have on your original keyword list and then those are the ones that will really do really well because you're going to put those terms in and you're actually drilling deeper and deeper into the individual ad groups that's just a really quick tip in the next video I'm going to show you how to make this even better and much faster using a free tool called Keyword Grouper Pro so in that video show you how to do that if you like this video give us a thumbs up if you have any questions please leave them in the comments section below I'll do my best to answer those questions or if there's a specific video you'd like to see us make about the Google Adwords Keyword Planner go ahead and leave us a comment below and let us know what that is we can get that out for you