How To Use The Bing Search Term Report To Find Negative Keywords
In this video, I'll show you how to take the Bing Search Term Report and find all the groups of words that you want to add to your negative keyword list. You can increase your targeting and lower your pay per click costs, by making sure your ads are showing only for the keywords that represent your target market.
We're using the free keyword grouping tool, Keyword Grouper Pro in this video. Here is some more info if you need help choosing negative keywords.
Choosing Negative Keywords To Lower Click Costs and Increase CTR%
By removing all those negative keywords that don't really represent your potential customers, you will lower your clicks costs and also increase your CTR%. You'll be rewarded with more impressions to your ads, and your analytics and stats will represent accurately the actual state of your marketing efforts.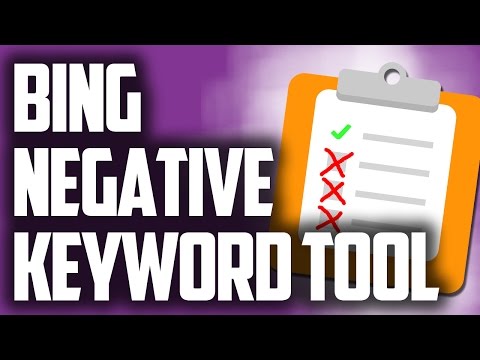 Another great way to find negative keywords is to use the search term report under Bing ads so I'm at http://reporting.bingads.microsoft.com you click on the reports tab here and you'll notice I'm using the search term report type I've got summary last month it's excel format all accounts and campaigns you can select specific columns set up filters and set up report settings when you're finished you just simply run the report and they'll ask you to download an excel file you can then open that file and you'll see all the search terms that triggered your ads to show if you come over to Keyword Grouper Pro I've gone ahead and just pasted in some sample search terms here for a campaign related to keyword tools and i'll go ahead and click the minimum group length of one then for excluded keywords list these are the terms i don't want Keyword Grouper Pro to group by and if you have questions about how to use Keyword Grouper Pro I'll put a link in the description so you can understand how to use this tool but i'm going to go ahead and put in the word keyword and keywords because i know those are ok words I don't want to group by those terms and i'll set the excluded words list and then i'll click on process keywords it's going to compare every keyword every other keyword and create our groups so we see we have 285 groups now I simply just want to scroll down through this list and I'm looking at these headers here for terms that really my ad shouldn't have been shown for but it was based on the Bing searched term report so i'll scroll down through here so maybe my tool doesn't have any new the amazon i might not want that qualitative research probably don't want my ads shown for that I don't have anything specific to legal research so maybe want to add the legal research this is a specific company name i can add that as a negative keyword cloud living research probably can remove that one so you're just going down through this list and there you go right there is one you're looking for the search terms that triggered your ad that you really don't want your ad showing for those terms and you're simply going to scroll down through this list and pick up these specific terms you don't want and then add them as negative keywords to your campaign this is a really easy way to use Keyword Grouper Pro and the Bing ads search term report in order to find those terms where your ad was shown you really didn't want it to be shown and so you now take those terms and add them as negative keywords to make sure your ads are only shown to the right market