Easily Group Any Keyword List Into Relevant Groups Of Words
No matter where you have gotten your keywords from, you'll want to take that big list of words and group them. This video shows the easiest way to take a large list of keywords and group them.
The final result of sending a list of keywords through Keyword Grouper Pro is that you'll have very nice groups of keywords. You can use this for SEO, PPC (it will improve your Quality Score as Google sees your pages as more relevant for the main term), Content marketing, etc.
How Do You Use The Keyword Groups From KeywordGrouper Pro?
Once you have found the best keyword groups from your parent list of key words, you'll want to export those groups. Keyword Grouper Pro allows you to export those terms into a .csv format, which can be opened up in Excel or OpenOffice (or any spreadsheet program that can read a comma separated file (CSV)).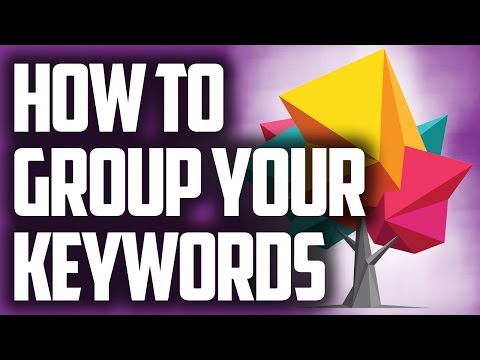 In this video I'll show you how easy it is to group your keywords into tight, relevant keyword groups. There's a link in the description to download the Keyword Grouper Pro tool once you click that link and download the software there's nothing to install just unzip the file and open up the html file in your browser you should see a screen that looks just like this. And next you just want to take your keywords. For this example I'm just going to use a keyword list that's related to ipod and ipods and they can be from any keyword tool and we're simply going to copy and paste these keywords you can hit Ctrl+A Ctrl+C or right click Copy and right click Paste. Ctrl+V will paste it into your Keyword Grouper Pro. And now I have all the keywords pasted directly into the tool. Next I need to set the minimum group length. And this is the number of terms before Keyword Grouper Pro will consider a group of keywords a group. So I'll just set this at five. And then we have this Excluded Words list. Since I know all of these keywords have to do with ipod or ipods I'm going to go ahead and exclude those two terms as terms that Keyword Grouper Pro will not count towards the grouping. So I put in ipod and ipods and I click Set Excluded Words List and lastly I simply need to click on Process Keywords. And Keyword Grouper Pro is going to analyze every single keyword against every other single keyword and it's going to create very tight relevant groups. You'll notice it analyzed 2497 keywords. There were 120 groups created with at least 5 or more keywords in each group. And I'll just scroll down through this list and you can see how nice and tight these keyword groups are. This is going to help our SEO. It's going to help our Pay Per Click because we can actually improve our Quality Score and if you want to copy any of these individual groups we just need to click the copy button. That will copy just this group into the clipboard. We can then head over to the Google Adwords Keyword Planner and we can get the monthly search volume. Also at the top, we can click Export to .csv. This will export all the groups in a format that's easy to understand into a .csv file that you can open up in Excel or OpenOffice. And if there was any groups that keywords that had no group they'll be on this less than 5 tab. If you'll click the link below to the MarketBold channel there are some additional videos that cover some advance tips and tricks that you can use with Keyword Grouper Pro and this is going to help you with your SEO your Pay-Per-Click and all your marketing campaigns so that you have tight, relevant groups and you know you're targeting the right market.