Getting More Clients
Adam Erhart does a great job covering 7 different ways to get more clients to your business.
Probably the first mistake most people make when trying to get more clients is not having a good plan. If you have a good plan, you can always adjust it as you track your results. Without a plan, getting more clients is a frustrating process of hit and miss.
Who Is Your Customer?
Another great tip is to dig deep and really find out who your customers are. Where do they hang out online? What stores do they shop in? Who already has a list of your customers?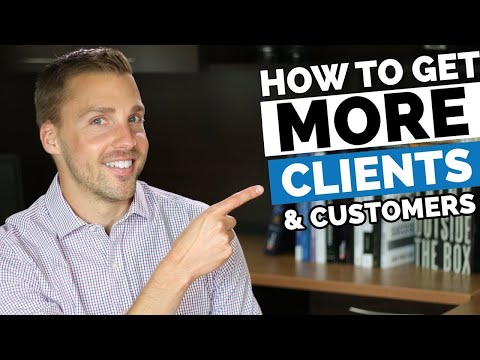 Why do some businesses seem to have a never-ending supply of customers and clients while others struggle to find their next lead why are some people able to command premium pricing while others struggle just to get by and can you imagine just how much better easier and more profitable your business would be if you could generate clients and customers on demand well it may sound too good to be true millions of people are doing this every single day and you can too so in this video we're going to cover a simple seven step process so you can start generating more clients and more customers yeah hello and welcome my name is Adam Earhart and you're watching the modern marketing show where we take different marketing tactics tools tips and strategies and break them down into bite-sized actionable clips that you can use to immediately take your business to the next level clients and customers are the lifeblood of business and the volume of new customers and clients coming into the business means the difference between surviving and thriving so here's a simple seven step plan that you can use in your business to immediately start generating more clients and more customers if you want a steady and consistent stream of new leads coming into your business you're going to need to have a plan sure there are some tactics and techniques you can use to immediately start bringing in new leads but for long-term and sustainable growth nothing beats having a well thought of a plan this way you can track what's working and what's not so you can spend more time and money on the winners and cut the losers when you're just getting started it doesn't need to be any more complicated than simply keeping track of what you've tried and what the results were step two is accurately defining your ideal customer the more accurate you're able to define them the better you'll be able to create meaningful marketing messages that resonate with them the best way to define your ideal customer is to first take a look at who your business is already serving and then pick the top ten to twenty percent of them this top ten to twenty percent is your ideal target market from there see if you can identify any patterns among them like their age gender profession or interests that you can use to seek out more people just like them once you have this written down it's time to move on to the next step now that you've defined your ideal target market it's time to start thinking about where are you going to be able to find them both online and offline not a creepy stalker way but in a way that allows you to better deliver your message to them for example offline it could be local clubs recreation facilities restaurants or coffee shops or retail stores online could be a specific social media network like Facebook Twitter or LinkedIn or on a website or forum that they're interested in now that you've identified your ideal customer or client and found out where they hang out it's time to work on getting your message heard above the noise and this is where the marketing term differentiation comes into play here is where you want to find what makes your business unique in the marketplace and then expand on it an important point here is that you want to pick something that your customers or clients actually care about being different just for the sake of being different can work but it's a whole lot more complicated and challenging so try to find something different about you that your customers or clients really care about a great way to alleviate any fears or uncertainty your potential clients may have is to constantly be working on providing value up front if you want to study and consistent supply of new leads you need to be providing a steady and consistent supply of value this can be done through your website or blog social media whitepapers articles or even free initial consultations how you provide value is completely up to you so the best plans to find a way that you'll enjoy and be consistent in step six bills off our last . perfectly as the next step to start generating more clients and customers is to teach the reason that teaching works so well is that one it's human nature to respect people that teach us things too we appreciate that someone took some time out of their day to show us something that could help and 3 teaching helps prove that you really do know what you're talking about once you've decided to incorporate an element of teaching in your marketing the opportunities to do so are nearly limitless from in person seminars to online webinars on a blog and video in a social media post in an email or one-on-one just to name a few the ultimate inbound marketing strategy is Authority marketing when you're perceived as an authority expert or guru in your market or industry life and business get a whole lot easier like a lot easier seriously like really really easy being an authority means that new business clients and customers actively seek you out in your days of struggling for new business becomes a thing of the past now i get it that the advice to go out there and suddenly become an expert sounds like a big and crazy suggestion but the truth is this type of marketing and positioning is happening every single day it's working for others and it can work just as well for you too I've created a giveaway on Authority marketing that you can download for free by visiting a demerit calm / authority which will help get you started on the right foot so thanks so much for watching if you enjoyed this episode be sure to subscribe to the channel give it a thumbs up and if you have any questions comments or suggestions for future video be sure to leave them in the comments section below you'd like more content like this then head over to Adam Hart calm and sign up for the modern marketing newsletter because this is where i share my best tips tricks and strategies that I don't share anywhere else take care for now we'll catch you next time on the water marketing show ok