Ranking Keywords On Bing vs. Google
Most people focus solely on Google when it comes to keyword research and ranking for keywords. But to overlook Bing SEO is a big mistake. In this video, you'll not only get a good breakdown of the difference between Bing and Google SEO, but you'll also get a good idea for how your keyword research strategy should include focusing on Bing SEO metrics.
Bing and Google are slightly different, and until you understand both, it will affect how you select keywords for your site.
Bing vs. Google Emphasis in SEO
Bing does some things better than Google. While Google is the focus for most webmasters when it comes to keyword research and SEO, Bing should not be overlooked in your overall marketing and SEM plan.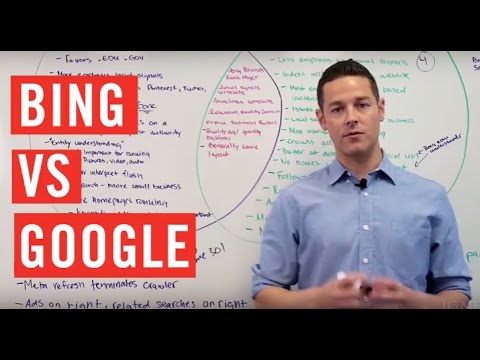 [Music] [Music] Hi everybody I'm John Linka and welcome to another night visibility university today we're talking about Bing verses Google Bing has a ton of market share it's super important to make sure that you're focusing on it and then to talk about how to optimize for Bing and why it's important so first thing I want to do is start off with just a little bit of history just for a few moments so so Bing was basically replaced replace live search in may of 2009 right so that's when Bing started and then it's Howard yahoo search since 2009 as well that was a big deal that happened were one Bing came out and started powering yahoo search 100-percent so after that in 2015 a new deal came out and basically said that Bing just had to power the majority of yahoo search and that deal is still in effect right now so Bing currently powers the majority of of yahoo search and we look at the breakdown Bing is actually about twenty percent 20.9 percent yahoo 12.5 percent but Bing powers the majority of that right and then Google is 63.9 percent that's what you're seeing as far as the breakdown okay so now we've got a little bit of history let's look at some of the similarities between Bing in google from an SEO perspective so when we look at the similarities as far as ranking inside of these individual search engines first thing we see is that big brands ranked higher ok social signals correlate with rankings inside of both search engines as well backlinks correlate so high quality backlinks relevant quality content matters and on page technical factors you can have anything broken on your website and then its quality over quantity with backlinks and generally both sides have the same layout this is the things that there are somewhat similar between Bing in google SEO is actually quite a bit that's different looking at things Bing favors older websites they also generally rank eating you and dot-gov sights a little bit better than google there's more emphasis on social signals if you have great social signals on pinterest on facebook on twitter is going to recognize that right and they're going to rank you higher as a result know you have this link explorer tool looking for tools gone let's go another thing is they don't index all the pages on the website so only the highest authority pages so what Google will do is they'll try to index every page in the book and at least have some record of it and with think it's a little bit different you kind of need to have a certain Authority score in order to show up in bing bing also has something called entity understanding so with Bing they have a better understanding of things like pictures video and audio and they use that as a stronger component inside of their ranking algorithm google primarily more focused on text content I mean surely look at multiple media but Bing puts more emphasis on the side of multimedia and they have a better entity understanding at the moment Bing also has the ability to better interpret flash websites in the local search area they're showing more small businesses inside the local pack and HTML areas in bigger businesses for google is primarily showing a lot more bigger better decisions of areas you're going to see that Bing puts a lot more emphasis on the exact match keywords whether it's in the domain name that title the description of the h1 h2 throughout the copy that's a lot more important to Bing so forbidding it's more of this kind of like exact match the older school you know older schools in the Google world but but no current new school for Bing generally what you're going to see online is that Bing a sort of a they usually just index about the first 100,000 pages i do believe they're doing a little bit more than that now but historically they were just indexing the first 100,000 pages of the website Bing used to not be able to crawl a 302 redirect right would basically like just terminate the quality didn't recognize that they would only look at a 301 that's changed when forester who used to work at Bing was kind of like a spokesperson for them came out and said that now if they hit a 302 redirect multiple times they're just going to eventually assume that that's a 301 if you use the meta refresh tag to refresh a page in the past that is terminated Bing's crawler in ages leave your website and in general this is kind of an issue with things they don't really have is outspoken educational system that google has created with webmasters that that relationship is not as strong as it was in the past unfortunately one really big thing is google used to have all these ads on the right and then and they have three ads on the top and what they did this last year was they made some outs for ads on the top and they got rid of all the ads on the right so that had a huge impact so Bing still have that layout of the main things to take away or that you know this strong focus on keyword a little bit older school higher social integration a little bit more focused on multimedia and things like that we'll come back to that a bit now let's talk about google so when we look at google we're seeing more weight to newer and commercial and popular sites right so newer sites are generally ranking a bit better with a little bit less emphasis on social signals now Bing has been really open about like we use social signals right in google has been the opposite days they said that we don't use social signals but everybody kind of things that they do based off of the studies that we've seen they also generally index all the pages on the website there's more emphasis on text-based content they do look at multimedia as well but not as much as the entity based media that thing looks at that issues with flash local search they're showing larger businesses generally they've got more internal pages ranking so instead of like ignite disability dot-com you'll see that ranking for terms around SEO for us in a lot of cases their ranking our service SEO page instead they call all the pages on the website and one of the things that that kind of used to be a myth is that Bing could not pick up canonical URLs correctly so if you're not familiar with what a rel canonical it is basically if you have multiple pages and you want to tell a search engine to attribute all the way to these multiple pages to one page into rank this page because these other pages are basically duplicate versions of this page but you might have the URL variations are just like differences inside of the the content on the page then then that's what the canonical URL is now Bing in the past they didn't even they wouldn't even look at the canonical URL they couldn't call it now I believe that they can so so that's not an issue now I don't think they're picking it up as well as Google i was working on a really large site recently there's still some issues there but generally it looked like they were taking a look at the initiative the 302 redirect issue is gone so not as big of an issue as it used to be and you'll see that on a lot of blogs online that Bing can't deal with 302 redirect the way they deal with it as they hit multiple times and then that becomes a 301 and we have documentation of that from doing foresters twitter also google followers0 second metal refresh and so you know you're not getting kicked off the page but you know some of the things that are really different with google especially as we're moving into this is into 2017 right is that Google is doing things like rank brain artificial intelligence right so they're really what they're doing now is they're looking at artificial intelligence and utilizing that in order to pick the best content right so what our users really enjoying taking that data and then using that to rank things inside the search engine also google had a really big mobile-focused so although Bing and Google both came out with mobile update saying that you know basically you have to have a mobile version of your site now this year you know Google's coming out and saying that we're going to ranking based off your mobile website first so that's a whole nother ship these are some of the things to think about was Bing right a little bit of history for you what's the same what specific to Bing and what specific to Google you know there's a lot to know and i think that if you really hone in on Bing you can do very well one thing that I would say is make sure you go into Bing webmaster tools setup your site and monitor every single month because there's probably a lot going on in there that you don't know and I actually wrote the ultimate guide to Bing webmaster tools for search engine land i'll put a link to that inside of the the bottom of the video i recommend you check it out because Bing has all these great analysis rules on the page level on the link level on the site structure level that i really think you'll enjoy so that's it for today see you next time have a great day