Mapping Your Keywords Starts With Grouping Your Keyword List
If you want to map your keywords (which we recommend for any SEO architecture plan), you need to start with grouping your keywords. This works because you want to not only map individual keywords in your site architecture plan, but you also need to know what related keywords you will be targeting on each page.
Often, you will find that keywords have dozens or even hundreds of very closely related terms that people search for each day. Before you try and map those keywords (see our keyword mapping video for more info on specifically putting your keywords in a mind map format) it is helpful to group them into tight, relevant groups.
Map Your Keywords In Any Mind Map Program After You Have Grouped Them
Once you have finished grouping by key words in your list, you can then proceed to use any mind mapping program. We like XMind 7, because it is free and works very well. There are many different mind map program available, so choose one that works well with your operating system and also looks and feels like you want it for your SEO planning.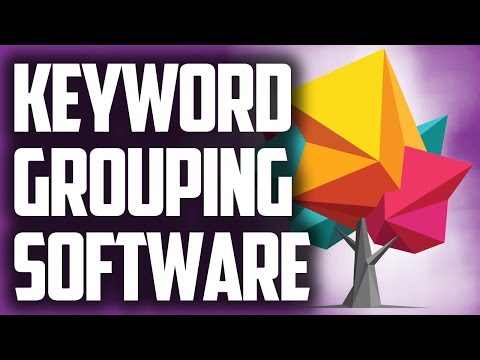 Once you have downloaded the keyword grouper pro zip file you can just double-click on it if you're inside windows you'll see something looks like this you'll see keyword grouper pro .HTML and then you'll see some other folders and just above that you should see extract all files if you're not on windows or on another operating system and you need help with unzipping this I'll put some links in the description for some tutorials on how to unzip this but basically you unzip it like you unzip any file and once you unzip it that's all you need to do there is no installation you're just going to simply double-click after you unzipped it double click on this HTML file and it will open in case you will use Firefox Chrome Safari i'll put a link in the description for how to do that but once that's done and you open it up you'll get the key word grouper pro page here let me explain simply how this works then i'll give you a quick demonstration it's very easy to use but it's extremely powerful so in this area you're going to be pasting in any keywords and these can be long tail keywords that can be full questions i'm going to demonstrate this in just a minute but you paste all your keywords in here the minimum group length is the minimum number of keywords that you should consider a group so this might be five key words if you put five in here you're saying as long as there are five key words that match some criteria which is the language of the key word itself then put those into one group and if there's only four don't put it into group or three or two or one then excluded words list you click on this and you can type in any words you don't want to be using in a group and this is extremely powerful but i'll demonstrate this in a minute but all you can get there some pre we put a bunch of words in here you can scroll through here is a lot of words these are considered like stop words but if you know you want to add a specific word into this list now explain why you'd want to do this in just a moment you could type that in here and then click set excluded words list and the last thing is to simply click on process keywords and let keyword grouper pro look through all the relationships between all the keywords and group them based on the words that are found within those keywords so let's just do a really quick example to show you I pulled up question spy here I've done a top searches on the word ipod and now I have all the top questions people ask that contain the keyword ipod from QuestionSpy so I'm just going to go ahead i'm going to copy this going to go over to Keyword Grouper Pro i'm going to paste this into keyword grouper pro you'll see now all the all these long tail question keywords are inside Key word grouper pro i'll just go ahead and leave this minimum group size of five but in this case I know all my keywords are going to have the word ipod or iPods in them just because of the way that the google suggestion tool works so I'm going to click on this excluded words list and I want to go ahead and exclude the word ipod and ipods now it doesn't remove those words from the keywords don't think that's what it's doing it's simply saying it won't consider this word as what would make a group because they all contain that word this is going to make sure we group by really tight terms and then now i'm just going to simply click process keywords and we'll give it a second it's gonna prepare the keywords and there's literally tens of thousands of operations that just went on in just that short amount time so if you have a really large list it is going to take some time I think yesterday we processed it was close to 41,000 keywords it did take a long time i'll say that right now but literally there's over a million processes going on in the background so just give it time it's looking at all the relationships between all the keywords so you can see now what we have now is we have two tabs this says there's five or more in these groups and these are the key words that had less than 5 so if we click on this one first you're going to see these keywords there's not any grouping relationship between them doesn't mean they're bad keywords that just means that for groups of five they don't there's not five things in common with any of these keywords but over here there is so you'll see it says 1049 keywords analyzed 72 different groups with five or more were created and if you click here you can export to a CSV file this is super helpful because once you close the browser down the data is gone it doesn't store it to your computer until you actually save it so you can click here it will save it to a CSV file and the way it generates the file it's really easy to still see the groups within the csv file so that's really nice but you'll see now we have the the commonality here so this is the key word these are grouped by so this is the word touch and there are 66 keywords in this list so we see how ipod touch works what ipod touch should i buy where is ipod touch on sale these are just keywords that relate to bluetooth so these were all the questions people asked about bluetooth here's word keyword phrases or questions in this case because we got them from QuestionSpy that have to deal with ipod classic ipod nano let's scroll down to the very bottom and you'll see how granular we can get with this so these are specific keywords that contain the word bad our ipods bad for the environment bad for you bad for hearing let's scroll down even further working when i pod stops working why do i pod five start working why do i pod charger stopped working ok so you'll see how nice and tight you can get these specific words down into these very small groups now we chose five that had we chosen three or two one obviously is not going to do anything because that's not a group it's just too single keyword but if you choose smaller amounts it will take a little bit more time that you'll get even tighter groupings and it just depends on how much you want to focus on that now if i want to copy these keywords to my clipboard if I just want to copy the keywords that way to the word best I just click the copy button and now that's been copied to my clipboard I can go to the Google Adwords Keyword tool and paste in just these terms and get actual search volume on a very tight keyword group and that's one technique we're going to be putting out some more videos to show some advanced techniques let's say this group here we have ipod touch was pretty much what was returned here and had 66 I can copy this list here i can open another instance of keyword grouper pro in another tab so it's just a HTML file so you just double click and it will open another instance of it inside your browser then i can paste in just this group for that has touch 66 here I could paste in these keywords but I could set in the exclude list the word ipod and the word touch now it will create new groups around these 66 keywords but it won't count the word touch or the word ipod as part of the grouping and therefore I'll break this down even further so there is a lot of different things you can do with this tool but the thing that's the best thing about this tool is that you can group long tail keywords you can group regular generic key words you can group the questions that you get from questionspy you can group any keyword from any tool you can put into this tool and it will find all the relationships between the keywords and we'll put them into these nice tight groups and this is great for pay-per-click it's awesome for SEO because you know exactly which keywords you want target on a page and you can look at all so the lsi terms that show up in these groups and make sure you sprinkle that in your content to rank for even more terms so you can pretty much use it for anything that you need to see you have a big list of keywords and you need to break those down very quickly within reason what you have i mean if you have 30,000 keywords quickly is relative because you're actually looking at all the relationships between every word and every phrase against all the other words in the entire list it's not even possible to do this manually I mean it would just take forever so this is the beauty of keyword grouper pro is going to break those keyword list down for you and put them into nice tight groups so you know what you're working with you can map out your site and you can get all your content in and get all your your SEO and your PPC your ad groups get it all set up so you have these nice groups you know exactly which groups are profitable for you and which groups are not