How To Identify And Find Negative Keywords In Amazon
This video covers how to find negative keywords for Amazon, but you could use the very same steps for Google Adwords or Microsoft Bing as well. These negative keywords are going to help your PPC ads become much more targeted, and cheaper too.
The key is to find groups of negative keywords. By finding and removing groups of negative keywords, you can quickly lower the number of junk impressions your PPC ads are currently getting, which will drive up your CTR%.
Amazon Negative Keywords vs. Adwords Negative Keywords
While Amazon, Adwords, and Bing all have different PPC tools and traffic networks, they all offer some method to add negative keywords. If you are using Broad match or Phrase match in your PPC campaign, you should definitely use these methods to help lower your CTR% and make your ads more targeted to your audience.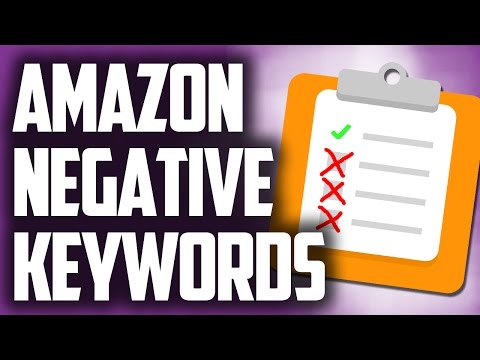 Here's an easy way to find negative keywords for your amazon pay-per-click ads so basically you want to make sure your pay-per-click ads on amazon are not being shown to people who really aren't your target market that this makes your targeting much better make sure your products and services are in front of the right audience so we're at keywordtool.io/amazon and we're just going to go and we'll put a term will put flowers in here and we'll click the search button here and it's just going to basically scrape Amazons suggest and it's going to give us a whole bunch of keywords here and when it's finished it's got a hundred fifty eight unique key words i'll click copy all that will copy it to the clipboard and i'll go over to Keyword Grouper Pro and I'll just go ahead and paste in those flower terms there i'll set the minimum group length to 1 again if you don't understand why we're doing this here i'll leave a link in the description for how to use this Keyword Grouper Pro tool you can understand how it works and then in the excluded words list i'm just going to put in flower and flowers because i don't want to group by the very term that I know is correct and i'll set the excluded words list and i'll click on process keywords it will compare every keyword to every other keyword and put them into groups so we have vase here we have this flowers for algernon artificial decoration so I'm just simply going to look down through this list of terms that are grouped and it basically going to determine ask myself if my ad is showing for the term flowers have a broad match whatever your keyword is there these are the terms that I don't want my ad to show for and i'm just going to copy these terms and these are going to become new negative keywords in amazon so i can make sure my pay per click ads are actually showing to the right people