How To Rank YouTube Videos Fast
In this video, we'll do a live demonstration and rank multiple videos on the first page of the search results on YouTube. We'll use the plugin, VidSpyPro to look at all the YouTube SEO factors so we know what keywords are easy to rank for.
The method we use to rank these videos is a bit controversial, because we do not use a description or tags for our video. We'll explain why that is the case and we'll even demonstrate how powerful this method is. The best part is this method is very quick, because you only have to select your keyword and upload your video.
Watch A Live Demo Of YouTube Video SEO Rankings
But don't just take our word for it, try it out yourself on your own YouTube channel. Take the ideas in this video and try them out and see how well they work for your videos. I think you'll find this very simple video SEO method works very well in 2017.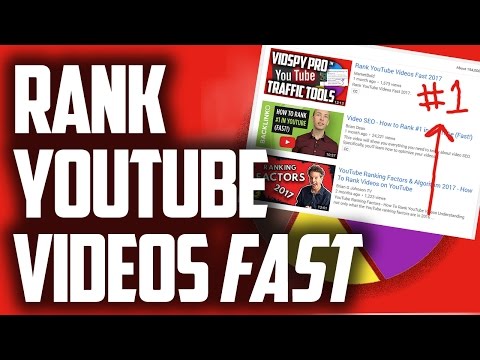 In this video I'm going to show you how to rank YouTube videos and I'm actually going to demonstrate it by ranking some videos so you can actually see exactly how we do it now you may remember from the previous video I showed you we were doing some super-secret SEO tests inside YouTube where we were trying to determine exactly what was the best recipe to rank videos on youtube and I told you in that video that the most important thing was the title there was nothing that came even close to that and the second most important thing was the first line of the description now the formula that we recommended in that video was to put your exact match keyword as the title with nothing else and then put your exact match keyword with nothing else as the first line of your description and that would give you a really good writing boost for just the on-page factors that come into YouTube ranking there are some off-page factors like number of views retention audience engagement comments likes so there are some user factors that come into play with ranking but a lot of people get the on-page factors wrong and so then it obviously makes it more difficult to rank for the video so since we know that the title is the most important ranking factor that makes it possible to determine how difficult keywords are to rank because you can take a keyword in this case I'll show you an example car games and you can look at the search results and you can simply look at the title does it contain the word car games then you can look at the first line of the description does it contain the word car games or the word car and games separated by few words now if you do a search for key word and you look at the first three to five results and the title does not contain exactly what you search for and that's true also for the first line of the description it doesn't contain exact keyword you searched for it means you can rank at the top of YouTube for that keyword using just simple on-page SEO like I mentioned using the exact keywords as your title and the exact keyword as the first line of your description now you'll notice here i have VidSpyPro pulled up and VidSpyPro is doing the same thing it's simply analyzing the keyword and then there's a total of about thirty things thirty different factors it looks at and we keep the algorithm up-to-date so you'll see here car games you'll notice here this keyword difficulty score of 76407 which again this isn't a scale of 1 to 100 obviously because this will be way off the scale it's a relative figure to other videos on the site so the more you use the tool the more you'll realize how easy it is to understand what this means so that's car games let's try one fishing tackle organization you'll notice now this one is much much easier to rank for and it only has 144 for the keyword difficulty score again there's about 30 different factors that VidSpyPro using to come up with these numbers but if you don't have VidSpyPro then you simply put in your keyword and start analyzing the titles and the first line of the descriptions for the videos on that page and you can get a pretty good idea a basic idea of which ones are easy to rank for again we'll take one more look here balloon animals for beginners notice keyword difficulty score of 140 will click one more here this is android Car stereos again very low here keyword difficult to score of 89 and really anything below a thousand isn't really that hard to rank for that's just what we've seen but the reason we don't have a hard 1 to 100 scale here is because it does there are some factors like your channel strength there's some other factors that come into play here so what's best to do is just to kind of upload some videos and record the numbers for those keywords and you'll find that sweet spot we can pretty much rank for those terms almost every time for your channel in other words specific to your audience because maybe you've got subscribers maybe you don't have subscribers maybe you promote it to an email list and they watch videos there's a lot of other factors that come into play but this is just a really good tool to help you make sure your targeted keywords you can actually ran for so you can get some traffic to those videos get some views on these videos so instead of just showing you this and then you know leaving you with that I want to actually demonstrate it so I've gone ahead and i've uploaded videos here and it's a series we're doing on the google keyword planner we're showing how you can find lots of different keywords from the google keyword planner by using the tool in a unique way and I've already gone ahead and just put my keywords for the title and for the description and i've added my thumbnail here so you have to sit here and watch me do all that and i've uploaded the videos and I'll go ahead and click publish all now we'll do a quick search for these keywords here I won't do all 7 we'll do some of these and you can check them later and see what where they stand when you do a search for Keywords Planner 2017 and we'll look down through the results here and there it is right there and do this next one here and of course without any views or anything so they'll get better over time when they get more views so here you go and do one more here and you can see that they will rank for these terms there you go right there so this method does work you make sure you get the title right make sure you get your description right and then make sure you get the right keywords that you are going after and you can rank on the first page of Google just really a matter of minutes sometimes seconds just depends on how quickly index the video and then sometimes they'll analyze it a little bit further than looking at the actual words that are spoken and that will factor into the rankings and of course views factors into the rankings so as these start to get views they'll start to pull up even higher eventually we hope to see them in the number one position but for just a few seconds of work checking inside YouTube and checking for your keywords and making sure you follow that pattern they're VidSpyPro plugin makes the super simple because you just put in your keyword and it will automatically calculate this keyword difficulty score and then you will just know what number you want to target so anything less than 1000 anything less than 500 anything less than 10,000 whatever it is because your YouTube channel will be unique in that respect of what you're able to rank for and you just simply put your keywords in do a search it will run through about 30 different data points and then come up with a number and that number is consistent across the market so you can drill down maybe there's a keyword that's too difficult to you can add a term right on the back end of that keyword and then suddenly that term becomes totally fine you can rank for it rather quickly so I will leave a link to VidSpyPro below this video so you can check that out if you want to get that plug-in it's simply a Chrome plugin that you can run in Chrome on either Mac or PC so it will work on both and you can use this tool to find great keywords this year to market your products and services and videos up on YouTube make sure they get ranked make sure they get views make sure they're getting watched and so you can really bring profits to your business