How YouTube SEO Works in 2017
In this video, I'll show you a few different traffic tips from YouTube. Toward the end of the video, you'll actually see the most important way to setup your YouTube video in order to rank quickly on YouTube.
YouTube SEO can be a bit controversial, and I think once you see how easy this method is, you'll assume that it can't work. However, we will show you the actual video search engine optimization tests that we have run to prove that this method is the best working method to rank a video in the YouTube search results.
Top 10 YouTube Rankings In Seconds
If you will take the information you get in this video and try it on your own videos, you can see for yourself how easy it is to rank a video on YouTube with this video SEO method.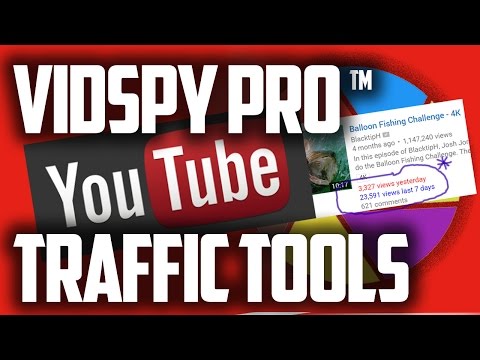 I want to share with you a great new opportunity that's coming up because YouTube advertising is getting more and more popular and more businesses are learning about how to advertise their products the right way with YouTube and so what happens is YouTube advertisers can either choose to promote an existing video on youtube or they can choose to run a custom video for their ad that's often what they choose to do is create a brand new video for their ad so if you look right here this company here this Bixby jet they're promoting this video here on their ad and you'll see here it's getting about a thousand views a day just about 800 here but almost a thousand sometimes it changes I've watched this for a few days here. It's had six thousand views over the last seven days but this is the this is the golden key right here notice that only has 4 comments on this video ok so we can click this video go to the site there's only 4 comments our comment would be the fifth comment and since YouTube usually arranges the comments in order of top comments first but in the case was only four comments your comments going to show immediately when somebody scrolls below this video and looks at the comment section it's not like it's gonna get buried way down after hundreds of comments so if you had a product similar to this product or you have a youtube channel where you dealt with kayaks and outdoor things you could come to this ad right here you could put a comment about you know great video enjoyed it check out my channel we're talking about kayaks or I review this kayak as well and i enjoyed it and you put your comment there and a thousand people a day are going to be hitting this page seeing this video and then your comment is right below notice this one here this is another ad this only has 11 views a day but there's no comments at all so you would be the very first comment on that page and so you would stand out if you go to here's another of car stereos and 175 views a day and no comments look at this one here it's not even an ad 164 views yesterday and there's only one comment so you could be comment number two and maybe you've got a car stereo channel and this will work for even if you don't have videos if you have a site that deals with car stereos or you have an article about car stereos or you have an affiliate program or you're promoting affiliate product of a car stereos it's possible that you can leave comments don't do in the spammy way you're gonna need to actually like consider this a community and you're working with people so obviously it does work really well if you can just link to your existing YouTube videos and just say have got a video about Car Stereos as well you might want to check out that's one way that you can you can join the conversation and you can get traffic to your websites using this method right here now the way you could just click anything any of these links inside YouTube and you can go to the page and this information would be available the views yesterday we get that directly from the stats on the video ok so you can look at the stats for the day before and yesterday do the subtraction and you can figure out how many views were yesterday doing the math there and seven days is the same way comments is easy just look at the number of comments on the page you can do this all we created a simple plug-in called vid spy pro which just grabs this data instantly and puts it right below the videos on youtube so it makes it really easy to do that to see that the data there are the other things that this vidspypro will do is that you have this opportunity to see the keyword difficulty score so if we wanted to rank for the term kayaks and i have a video training series on VidSpyPro we're actually going to detail on how this is calculated and i'll also show you exactly how you need to structure your videos and in a minute on this video I'm gonna actually show you what's working best right now if you want to rank your videos at the top of YouTube just using the on-page factors of YouTube not not talking about backlinks and things off site but just talking about what you can do to set up your video so in the end of this video I'll show you what that is but you get average daily views here and i'll explain these two numbers in the video training as well then you'll see we can get the title so we get the title information here we can just copy this to clipboard pasted into excel we can instantly see ideas for titles for our videos we can also grab the data specific with these titles so you'll see here we can get the the titles for the videos that we also get the number of views yesterday and use last seven days we can grab all the URLs specifically with the view data included so we can see along the URL we can also see the number of views yesterday and the number of use the last seven days and this is all tab-separated format so we can actually paste it right into excel and all perfectly go into the different columns so you can sort by these different values here and one thing i didn't mention this is get data this is a great feature right here if you have not tried advertising on youtube yet with videos there is a ton of cheap traffic right now on youtube pretty much because there's so many videos being uploaded the inventory is just massive on youtube for just about any topic so you can take this these URLs from youtube and you can go directly into google adwords and you can do something called managed placements and so you paste the exact URL and you'll tell YouTube I only want my ad to show when somebody visits this exact video ok so you have a lot of control over where your videos are shown when used manage placements and you could use something like this copy it to your clipboard pasted into Excel you can do this for couple different pages and then just pull out the top viewed videos and you actually know about how many impressions your ad is going get just from that right there because you know how many times the videos play per day and your ad is going to be on that page then you can just add it up to get impressions and I cover some more specifics on that in the the training area and then we have this ability to get tags I've already done that here so just so you can see so we can get the tags for not only all the videos the main video on the page we can get it for all the related videos as well and we can do it for search result page as well so this is every tag from every video on this page here and we also have the ability to view the tags or their cross tabulated with each other in other words we can see how many of the videos on this page have the tag bass and then here's a listing and each of the videos here you'll notice we've put in overlay here so you know which videos which if we click on display tags it'll actually just put the video tags below each video and then we can analyze which tags are used on the most popular videos we can look at the number of views yesterday and the number of views last seven days and then we can see the tags below here if you want to display those tags so that's another way you could use this this will work this plug-in will in Chrome which means it will work on a mac or on a pc either either system is fine because chrome is available for mac and pc and it's just simply a plug-in that you install inside chrome and once its installed you can turn it off or on but once it's on you'll get the number of views yesterday views last seven days the number of comments and i didn't mention it in this video here this button right here there's a reason it's blurred and it's because it's just it's a super cool feature basically it will end your content issues like forever because i'll show you a really cool way that you can take a youtube video and turn it into content that Google absolutely loves offsite of YouTube and so you'll get organic traffic from the YouTube videos by using this button right here and what it does with the YouTube videos I we're just basically doing some fancy stuff with the video itself so I that's those features there again you get the average daily values the average daily views for the YouTube watch page you could monitor about how many views you would get if you can get in this related side here and then again you got the title and the title and data you've got to get data feature which will grab all the titles all the tags so it's kind of like a Swiss Army knife for YouTube now I mentioned earlier in the video i was going to show you what is the best method for video SEO right now let me do that really quickly and the reason I blurred this page because this is a live video test and I do go into this in great detail inside the training area to explain what we're doing here but i'm just going to keep things simple I'm just going to tell you right here this number one result if you want YouTube to completely understand what your videos about and to rank you at the top for that keyword right now the best way and this is a live test so it changes as YouTube changes we get the updates and we post them into the training area but as YouTube changes we will be able to see when their algorithm shifts but at the moment that the most important factor is still the title and the best way to structure your title is to put the exact keyword in the title and that's all you put in the title and then the second most important ranking factor is the first line in the description and so if you put your key where your exact match keyword as the first line in your description and nothing else in the description actually is what we're testing and that seems to work best right now put the exact match keyword in the title exact match keyword in the description and again I go into more of the specifics of these tests and how this works inside the training area I kind of explain i'll give you some examples of these but just know for the quickie the 80/20 here that you can use right now and take away is when you upload your videos but the exact match keyword title exact match keyword first-line description you can include a URL in the description if you like so right below this video there's a button and we've got a super special deal going for its VidSpy Pro you can be up and running have the plug-in installed in probably the next 90 seconds that's really pretty simple if you have chrome if you don't have chrome you can download chrome install it and you're ready to go you can turn it off and on at any time and you'll be able to get all this cool data you'll be able to see exactly your competitors if they're doing advertising can actually spy on them and see how many views they are getting and you can actually kind of start to calculate how much they're spending based on that but you can actually see for regular videos you can see how many views are getting you can start to target the topics that are the hottest topics and also you can get an idea for about how many views you would get if you were a related video on these pages because these would-be impressions so if this guys getting a 118 views a day for this kayak video and you end up on the right-hand side and related section because your videos related to this video right here you know you're going to get roughly a 118 impressions per day just for just for being on this video page and that's what these numbers here will also help you see so there's just a ton of really cool stuff you can do with this there are 11 videos in the training area that go over all the specifics and walk you through each of the tools here and how to use them and especially that really cool tool where we can take youtube videos and use them as content that google loves and gives organic traffic for on the search side of google not even on youtube and you don't actually have to create any videos to use that feature so it's a very easy to use and I consider this number right here views yesterday as the most important number for a video on youtube ok it factors into ranking it also tells you how many views per day or in your category how much traffic is out there for your specific topic and it also helps you understand the kind of traffic you'll get in both your advertising and if you rank organically in the related section for specific video you can plan on about how many impressions per day multiply that by your average click-through rate and you actually know how many views per day you're going to get even for you create the video so I consider this the most important metric on youtube for video and it's super easy to see this way you can calculate this manually by going to the stat section of the video and pulling out a calculator and finding yesterday and and do the subtraction it's just super-easy to have it displayed right here for you under the video and then the comments section were working directly with YouTube on this so it's just faster to see the comments directly below and then you can target those videos that have almost no comments but have a good number of views per day so it's super simple tool if you click the button below this video you can be up and running in the next few minutes and you can use this tool VidSpyPro to help you improve your business and grow your profits this year