Understanding How Negative Keywords Work In Google Adwords
In this video, I'll walk you through the three Adwords negative keyword types, and I will also explain some advanced tips for working with negative keyword match types.
Many PPC advertisers don't fully understand how Broad Match keywords work, and therefore they don't have the correct negative keyword strategy. This works to your advantage, because you can make your ads more targeted, and Google will reward you with more clicks for your increased relevance.
Understand How Broad Match Keywords Work
Once you understand how Broad Match keywords work in Adwords, you will know exactly when you should use a Broad, Phrase, or Exact match negative keyword.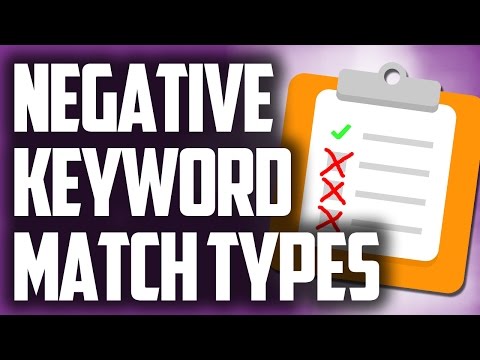 Now in the previous video I showed you how to take Keyword Grouper Pro and find a large list of negative keywords for any market if you click on the channel link down below you can find that video and watch that video if you haven't seen it yet but now let's talk about negative keyword match types there are three specific negative keyword match types for google adwords there's broad match there's phrase match and there's exact match the format for broad match is just simply the word and you do need to include the plural version so in this case the broad match negative keyword would be resume and then we put a plural version resumes and if these were some keywords that maybe our ad would have normally shown for you'll see they have now been cancelled out so i will not show for these terms free keyword resumes the plural version cancels this one out and search by keyword for resume the singular version of the broad match negative keyword would not allow our ad to be shown for these two keyword searches phrase match you simply put your phrase in quotes so in this case we've used a phrase match for excel keyword put it in quotes so if we had three key words here first of all this first one finding numbers with excel keyword it would not be shown because the exact phrase excel keyword is found within this search but let's look at this second version here finding an excel formula with keyword our ad would show if we were going to be triggered for this keyword it would continue to show because Excel keyword as a phrase is not found here excels here there's two words on keyword so our ad would show for this and how can i get my formula to work using an Excel keyword now first you might wonder why would my ads show for this keyword here because Excel keyword in quotes it's right here at the end well this is called the tenth word rule in google adwords and it says that if you're negative keyword appears after the tenth word in a long tail phrase a long tail keyword that your ad will still possibly show ok so just know that even by putting the phrase match if it's that the Eleventh word or on so 11 12 13 if it's that word or on your ad still can show even when you put the negative keyword in there and the last type of negative keyword matches the exact match and you simply put your word or phrase in brackets and so in this example here we put word 2010 we put that in brackets so if the exact phrase word 2010 came up then you are at would not show because we have the exact match negative keyword but in this example it's part of a greater phrase a larger phrase so this exact match negative keyword would not exclude are at from showing on this term you might be asking why would you ever even use an exact match keyword why wouldn't you just remove the key word from your campaign and that's very tricky to understand unless you really grasp how Google uses broad match keywords so let's say in your AdWords campaign this is one of the key words you put in and it's a broad match keywords to use told google google when someone types in low – carb diet plan show my ad well the way Google does broad match keywords just like this is they will also show for synonyms or related terms it even takes an account the user search history so if this is what we put in our google adwords campaign as a keyword to trigger our ad we could also see ads for these terms so carb free foods low carb diets low calorie recipes Mediterranean diet plans low-carbohydrate diet reprogram they don't actually have contained all these words here in fact this one contains none of the words found in our keyword but google says it's very closely related so you're ad is triggered so if you put a broad match keyword but then you decide later you know what I really don't want people who type in low calorie recipes to see my ad for my low-carb diet plan because they're just not generally targeted enough for what I'm offering then you could put in an exact match negative keyword for low calorie recipes and even though this would trigger this to show up because you have the exact match negative keyword your ad will no longer show for low calorie recipes the exact keyword phrase so this is a little bit tricky to understand that's the foundation you need to really grasp and the best advertisers have really exhaustive negative keyword list because you're really filtering out the people that you don't want to see your ad so that you know your ads are showing just the right people this is important for testing if you're testing your ads you're trying to split test you're trying to get a better ad you don't want a whole bunch of people seeing your ads that they're really not even your target audience in the first place so the better you get at using negative keywords inside AdWords the better you'll get your click-through rate and your costs down and just remember there's three different types and understand how to use them broad match phrase match exact match these are the three types of negative keywords