How To Find Exact Match Searches Per Month From GKP For Keyword Groups
Once you have your keywords grouped, it's always a good idea to do a quick check and see how many searches per month for the entire group.
Unlike other methods that have you checking only a single keyword, this method uses keyword groups. Since you are going to be targeting lots of different LSI terms in your content, a more accurate monthly search volume can be estimated by actually taking the full group exact match search volume.
How To Estimate Total Monthly Searches and Website Traffic
A simple formula, if you want to try an estimate the number of visitors per month your page would receive for a top ranked keyword, is to take the total exact match search volume for the entire keyword group, and multiply that number by .3 (30%). That seems to be a fairly reasonable number of actual visits per month for a page that has a well optimized title and description and ranks in the top 3-5 positions for the primary keyword.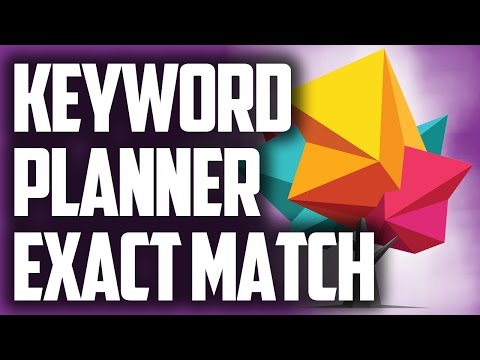 Once you have your keywords broken into groups you'll probably want to check the search volume of each group so go ahead and I've got this one sample here where I've got terms related to eat there's 57 terms I just click on copy – copy that my clipboard and then I'm just heading over to the Google Adwords Keyword planner and just paste in those terms and one thing you'll probably want to set is right here there's the option to only show ideas closely related to my search terms I've turn that on and then you click Save and then you'll see here I've sorted by average monthly searches and this is exact match so there aren't a ton of searches behind a lot of these terms that i have here but just keep in mind a lot of these are overlapping so do betta fish eat other fish does betta fish the other fish ok so there's some overlap here in these terms but again you're going to be targeting taking a page and because you if you follow the other videos were showing the lsi terms and and and breaking these groups out you actually ranking for lots of different keywords for any single page but this is just I wanted to see a really quick way how you can get the search volume for the individual groups and that's how you do it you copy the group amount out to your clipboard come over to the Google Adwords Keyword Planner paste it into the tool and then you'll get the actual volume for everything in that group if you were to make a page and you concentrate on the keywords in that group and add those values up to get an idea of what your potential for ranking if you rank say in the top three and you had a good click-through rate so that's just it just gives you a general idea of how to do this but it's a good step if you're not familiar with how to get that search volume this is how you want to do it