How to Group Entire Topics and Create Keyword Group Mind Maps
In this video, I'll take the sample keyword list for our "Beta Fish" topic and we will actually create a complete mind map. This video covers three different tools: QuestionSpy, KeywordGrouper Pro (Free) and XMind (Free). As you'll see in the video, you can take a huge list of keywords on any topic, and then group those keywords into tight key word groups, and then map those keywords into their groups.
Using this keyword mapping method, you're able to get a very good view of an entire topic or even a sub topic. This is going to really help you when it comes time for your SEO and Content Marketing. Being able to see an entire topic mapped out and displayed by groups is an excellent way to keep focused and get some direction for your planning and site architecture.
Try mapping your keywords today
After you watch this video, I encourage you to take a few minutes to write down some topics you have been wanting to create content around. Then, simply plug in those topic keywords into QuestionSpy and get back all the questions that buyers are asking about your topic. Then, just plug in those questions into Keyword Grouper Pro and get back the exact topics that people have the most questions about. Finally, paste the groups directly into XMind, and you'll have a working document that will help you to stay focused and actually get something done and get more content created.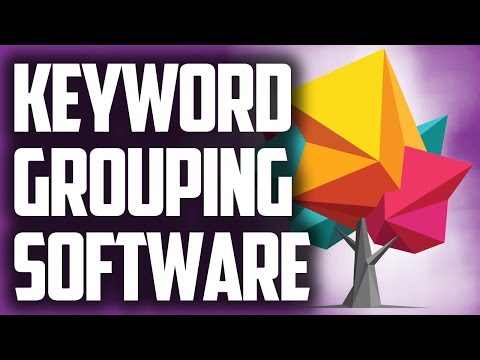 In this video I'd like to show you how you can map out a keyword or a topic very quickly using a combination of QuestionSpy and Keyword Grouper Pro and Xmind so I've already done the searching QuestionSpy for our topic of beta fish and I did it both top searches commercial as well as top searches then I've gone over to KeywordGrouper Pro and I've already pasted in those keywords and I've done the grouping so you would watch the other videos that deals specifically with those concepts the last thing i did was i exported to csv and so I have a 124 groups here with at least three keywords in each group I've exported that to csv if we pull that up in Excel or you can use an openoffice it's just a comma separated value file csv file there are a lot of programs that can open up csv files so but I've just got excel here then only going to do is I'm just going to highlight both column A you'll notice this is the group here eat there's 57 keywords in the eat group and here's the actual the actual terms so i'll just copy i'm sorry i'll click and highlight columns A and B and then I'm just going to scroll down to the bottom and I'll hold down shift and click the cell in order to copy all that and then i'll hit control C or I could right click and copy ctrl c and then I have that there and then pull up Xmind i'm using Xmind 7 it is a free tool there is a paid version i believe but the free one works great and I'll just click this I'll open it up once you've installed it and click on this map here and i just use this professional template there and you'll notice it starts me out with a central topic I'm just simply going to click on that central topic I'll right click and choose paste I are going to give it need to give it just a minute it's actually going through all the content that's on the clipboard which in this case is our our groups and it's going to actually create a mind map based on those groups that are on the clipboard so we'll just give it a minute to go ahead and do that so you could see all the terms are here and they're on a mind map now ok so i can collapse these just like you can use a mind map and I could collapse them all and I could work on the specific topics at a time or i can use any of the features that are available in Xmind there's a lot of different things we can do with this but this is just how you take that CSV file you copied into Xmind you can save the Xmind file as a mind map and you can work from that mind map you can do all kinds of notations showing relationships you can move keywords around you can move topics around all the nice features that in mind that pass are now available to you using Keyword Grouper Pro groups and paste them into Xmind