Answer: You use Amazon PPC and test your keywords directly on their eCommerce platform.
If you've been around here long, you know that we're crazy about testing keywords before you spend much time targeting them.
This goes for Amazon as well.
But how do you perform keyword research if your selling something on Amazon.com?
Greg Mercer over at JungleScout has an excellent post called Amazon Pay Per Click Campaigns: How To Advertise Your Private Label Product on Amazon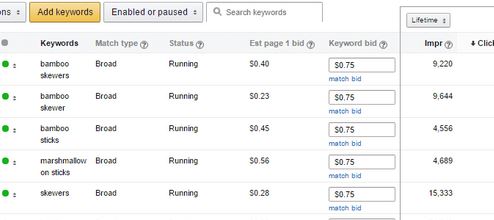 Now, even if you've never run a Sponsored ads campaign or you're not even sure what PPC, CPM, or CPC stands for, this guide will still be very helpful.
Greg does a good job covering the basics, but he also provides great screenshots so you know exactly what to expect.
About two thirds of the way down the page, you'll notice that he provides a screenshot from within his Amazon PPC dashboard that actually shows the layout and some keyword stats for his campaign.
You'll notice that much like Google Adwords PPC, Amazon also uses a Match Type and that in addition to keyword bids, ad impressions, clicks, CPC, spend, and Sales, there is a proprietary ACoS value.
I'll let him explain how to read that dashboard, but the big takeaway here is that you can't always rely on just scraping the Amazon suggest keywords and then assuming these will be great keywords (or "buyer keywords" as some say) for your products and services.
The key for keyword research on Amazon is to actually take the time to test your keywords against your products and services using their PPC platform. That's the only way to get valid key word reports and actual conversion rate stats.
One great thing, that others have noted also, is that it appears that your Amazon organic rankings seem to improve while you are spending money advertising on Amazon PPC. While no one (besides Jeff Bezos and team) are sure exactly why, it probably has to do with conversion rate improvements while you are running your targeted keywords on their ad platform.
So go ahead and dive in.
Go ahead and pick some keywords from Amazon Suggest, but then take the time to actually start an Amazon PPC campaign and run the numbers.
You'll know more after these tests than you could have imagined before you started, and there's a good chance you'll find some profitable keywords that you know you can invest your time and resources in moving forward…