How To Find Great Keywords For Your Site
If your site is not mobile friendly, it is important to get accurate search estimates from the Google Adwords Keyword Planner. In this video, I'll show you how to plan how much of your traffic is coming from mobile users vs desktop users.
If you look through your eCommerce data, you might notice that you make much more from a desktop or laptop user vs. from a visitor who is on a mobile device. Using the Google Keyword Planner mobile trends report, you can find out exactly what % of users for a given keyword are being referred from a mobile device like a smartphone.
Good Keywords For Your Specific Website
Not every website performs well with mobile traffic. This simple tip can make sure you don't overestimate the amount of traffic from potential buyers.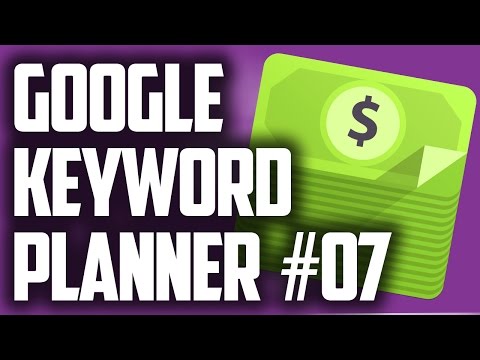 This is video 7 in the Google Adwords Keyword Tool advanced training in the previous video we covered this idea of targeting and how it would affect this graph here we used the keyword fishing in this video I'm going to just go ahead and clear this out so we're going to do all locations and we're going to actually change instead of breakdown by location we're going to choose breakdown by mobile trends ok and you'll notice here that we have in the purple here this is the number of searches done on mobile and this is the number of searches is done on like a desktop or laptop computer now there's a very important reason that you want to pull this chart up there's actually two really good ones and there's probably many others I'm not gonna mention but at least two they're important number one if your site is not mobile friendly okay or maybe it is mobile friendly but maybe it's just it doesn't display as well you don't get the total experience that you do when you're on the desktop version of the site you need to take that into account when you look at your search estimates and it is showing me here that nearly half of the searches and in some cases even more than half two-thirds of the searches are done on a mobile device ok so if I know that ahead of time I need to plan for that if my site is targeting a keyword where nearly 2/3rds of the search volume is coming from a mobile device then I need to know that ahead of time and not plan on getting a certain percentage of that traffic from a desktop device okay that's one thing the other thing is if you look through your Google Analytics e-commerce or whatever analytics platform using if you look for your ecommerce stats you may notice a wide difference disparity between the amount of money you make from a mobile visitor versus the amount you make from a desktop visitor it could go either way maybe you make most of your money from people on their mobile device maybe you just make a fraction of from people that are on the desktop maybe you make all of your money from people that are on a desktop surfing your site and you've made almost nothing for people on mobile devices well that would be something that's really important to know when you're doing a keyword research is what percentage of the searches that are represented here are actually from mobile devices so this is just another little feature that's right inside Google Adwords Keyword planner a lot of people don't talk about it use it but really mobile trends is extremely important you can also change this here let's say we did United States so let's add this instead of all locations and click Save and that will then adjust this graph here so again we noticed the graph adjust so make sure you're targeting is set specifically for your area that you're targeting so maybe you don't sell worldwide maybe you're just interested in getting data back for United States searches well then you want to match your mobile data up to that you can kind of get an idea but this is extremely helpful to see both the trend in this is the mobile trends report so it's trying to show you the trend in mobile devices but it's really good if you just want to see the amount of searches coming from mobile devices versus desktop and then the decisions you need to make based on that information and maybe you were considering investing and making your site mobile friendly well this report will really help you see how much more traffic you could be getting or how you can improve the user experience for a certain percentage of people that are searching for your keywords based on the mobile trends report in the Google Adwords Keyword Planner if you'll click the subscription link below you can get subscribe to the MarketBold channel we have lots more videos like this we try and give you inside tips tricks and tools to make your marketing life much easier and better and if you liked this video give a thumbs up in the comments section if you have a specific thing you wanted to know about the Google Adwords Keyword Planner (GAKP) leave us the information there will read it will try to make a video for you if we can or will refer you to video we already have on that topic or information thanks so much for watching and look forward to seeing you in the next video