Amazon Keyword Research Tool – AMZ3 Pro
This video will show you exactly how we are using AMZ3 Pro to find tens of thousands of keywords, many of them are completely hidden from your competitors. This tool finds more keywords than any other Amazon Keyword Research Tool.
In this video, you'll see how we are getting 1 cent clicks on Amazon. You can use this method to get millions of ad impressions on the Amazon Marketing Services or Amazon Seller Central PPC. You can also use these keywords to rank for products as an Amazon affiliate.
Find More Hidden Amazon Keywords
Using this method, you can group the keywords you find and discover the best Amazon products to sell. These product keyword groups will reveal thousands of hot products that people search for everyday. There are many different search features you can use inside AMZ3 Pro.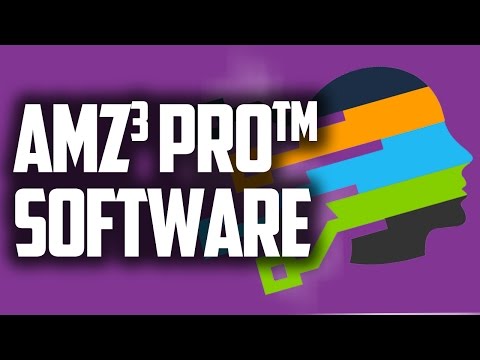 I want to thank you for taking the time to check out AMZ3 Pro this is the world's best amazon keyword research tool there's no other tool that even comes close to bringing back as many keywords from amazon as AMZ3 Pro I'm gonna prove it on this video so you can see that now recently just to test out how well AMZ3 Pro worked i went ahead and set up an Amazon pay-per-click campaign and I put my keywords into AMZ3 Pro I got back a huge list of keywords many of these keywords are keywords that my competitors have no idea exist because they don't have this tool and I went over to amazon i set up a pay-per-click campaign and i pasted those keywords in and i set my max cost-per-click 2 cents i set my budget to five dollars and i've gotten a total of about two million impressions now I've gotten 1485 clicks and my average cost-per-click is under two cents they show it is one set so it's below 1.5 cents basically here i've spent about $19 on those clicks because again I've gotten 1485 at an average of say between one and two cents so I've spent $19.88 cents but check this out $210.12 cents in sales and ACOS of 9.46 percent ok so this is just to show you that you can use this now this was for a book but you could also use this for products in the on the product side amazon FBA you can use this in AdWords you can use it in Bing there's a ton of places you can use it the key is that you're going to be seeing keywords that others aren't seeing so they're lower competition and you can go in and dominate the specific market you could use it for SEO you can take these keywords that others aren't seeing and plug them into your site ranked for these terms and either sell amazon products or so other products that are the that are related these so it's not just amazon you can use this tool for all kinds of things but you can see how powerful this is when you have the edge when you have keywords that others aren't seeing you can then go and work on those terms everyone else is working on the same terms you're over here and you're working on stuff that people haven't even seen that's the power of AMZ3 Pro in fact amazon PPC is hot right now it's a great way to get really cheap clicks from buyers to your products and services so that's one way we can use it use it for google Adwords so really it's not just a tool don't think you have to sell products in Amazon to use this tool it's a keyword research tool but it brings back all those really powerful buyer keywords and unlike the other tools it doesn't just skim the surface it's all those other tools skim the surface and everyone uses those tools everyone's fighting over those same keywords this tool goes far deeper than any other tool it's gonna bring back the absolute best amazon keywords for just about any topic let me just go ahead and dive in and show you how this works and give an example and then we'll talk about in the end some ways you might be able to use this to first of all i'm just going to put in the key word here ipod I just choose a really broad big market so you can just see what this will do on something like this but you can put in any keyword it can be anything that you want to look up that people would type in amazon's so you just put that here in this field then I've gone ahead and set the delay to 500 milliseconds there's actually 12 separate processes that are going to run this tool and so by setting it at 500 milliseconds we're making sure we're getting that good balance of speed it's half a second it's actually a fourth of a second because we split that in half and we do to process simultaneously so this is a this is a good delay i would just recommend keeping your delay at 500 milliseconds that seems to work really well then we have this ability to put in these custom terms so this is optional but we wanted to add this so I'm just gonna pay some in here and you'll see I put in some colors maybe some things like silver shiny hard durable soft anything you think might be related to the term you're typing in so maybe somebody's typing in what's the most popular ipod so just threw that in here now the algorithm is extremely advanced in AMZ3 Pro so there's a good chance it would already have picked these terms of any way but you might bring some expertise to your field maybe you know some things about the way people search for your products and services maybe brand names or types or styles or maybe it's a electricity things like nine volt AAA things like that you go ahead just put that in the custom search field here and it will just go ahead and use that for the entire process in addition to what is already going to do with the built-in algorithm so just go ahead and set custom search words and phrases and the only other thing i need to do is click the start button it's going to ask me the key word must contain and i'm going to go ahead and put in the word ipod and i'll put in the word ipods as well the plural version so I've got these two here and I'm just telling AMZ3 Pro make sure the terms you bring back to me from amazon at least contain the word ipod or they contain the word ipods ok and then when I see click search AMZ3 Pro is going to go out and any keyword that you see show up in this box is a keyword that people are typing in every single day at amazon.com so this is not bringing keywords from other sites like YouTube and Google not in this field here that's not what you're seeing what you're seeing in this field are just the hottest terms that people are typing every day and some of those hidden terms that your competitors aren't seeing they've never even seen these before because they don't have a tool that can dig deep enough to find these terms they're going to show up in this text box as well so i'm going to click search and then i'll pause the video and I'll let the search run and then we'll come back we'll take a look what happened ok the initial search is completed and you'll see now we have 1189 results which is a bad and if we scroll down through here we can see all these terms that contain the word ipod in them all kinds of things not just terms that lead with ipod but terms that just contain ipod so see tempered glass screen protector ipod 5 ok so these are really great long tail terms these are also excellent terms for SEO if you're doing anything with e-commerce there's some excellent terms in here I guarantee for the products and services that you're selling so this is excellent now a lot of free tools online they would go down to say right about right about this level here so just about a third of the way down here a really good tool would dig down into these terms right here these are really good terms again I mentioned they don't lead with the word ipod so ipod is contained in the phrase so these are a little bit harder to get out there are some good tools out there that will get these and you know the best terms you this might be what you get in a really good tool so 1189 results we haven't even started digging on this term ok this was just our initial like I said there's 12 processes going on and while this was running in the background there's all kinds of things being set up its kind of learning how people use the Amazon search for this term and it kind of builds this knowledge base if you will build this database of terms and then we're going to go ahead and go far far deeper than any other tool so what I'm gonna do now is I'm going to click this expand existing keywords it'll take this information here it will use what it learned in that first search and it's gonna use this algorithm to go even deeper and to try and find even more terms that are related to these terms they all have to contain ipod or iPods you remember that's we set up initially and now it's going to take further so instead of me talking about let's just go ahead and do it i'll start the expanding existing keywords then I'll pause the video and we'll come back and we'll see how this number has changed remember we got 1189 results that's not bad that's a lot of keywords let's see what AMZ3 Pro can do when we go ahead and tell it to go ahead and expand further on these terms now AMZ3 Pro has finished doing its expanding keyword search and now you'll see the difference between AMZ3 Pro and every other tool that claims to do amazon keyword research take a look at this number right here that is a lot of keywords related to the word ipod here we scroll through this list every single keyword has used the word ipod or iPods in them these are all keywords that people type in an amazon.com and there are no duplicates in this list so we have a ton of keywords here the best part is we haven't even stopped at this level we can continue to click the expand existing keywords the script intelligently knows which keywords it's already research to the fullest degree it can and which it has not which still have some ability to get some more keywords from it will only search those new keywords that you don't have to spend enormous additional amount of time for each each time you press this button so it will just simply take the terms that has a research fully and it will research them again and you can continue to click this until there are no more keywords the amazon says we don't have any additional keywords to give you that have anything to do with the word ipod or iPods now what do we do with this list well going to simply take this here and we're going to download we can export it as a CSV or we can copy and paste it we're going to take these results and we're gonna head over to the free tool a Keyword Grouper Pro that MarketBold has developed if you don't have that yet go ahead and download it, it's a really really great tool for Keyword Research and I'm simply copied and pasted the terms in the Keyword Grouper Pro i'm going to set a minimum group length of three and for the excluded words list i'm gonna go ahead and put in the word ipod and ipods because i know all these keywords are related to ipod or iPods I don't want then grouped by those two terms i want them grouped by all the other terms that appear in the keywords so that I get some really good groups and i'm gonna go ahead and process these keywords and I'm going to pause the video and we'll come back and take a look at what we've got ok take a look at this Keyword Grouper Pro has gone and analyzed these keywords now you remember there was about 18 little over 18,000 keywords we got 18 times more keywords than the other tools would typically bring back but when keyword pro analyzes the keyword it looks for specific phrases that are unique so there was a total of 27,779 unique phrases contained within those 18,000 keywords and Keyword Grouper Pro treats all those phrases as an individual keyword take a look at this 2245 groups created that have at least three key words in them now there were some groups that were created that don't even have three so these are really unique terms that you may want to target you click on this tab to get that but you'll notice here we're going to scroll down through here you can see these groups so these are just keywords people are typing in the Amazon that have to do with headphones here's people typing keywords that just have to do with holders types of holders we've got everything look at here we've got keywords related to bluetooth transmitters clear cases there's just so many groups here you could take any one of these groups and dominated either on amazon or on your own e-commerce site if you sell products like this again this ipod is the sample you can put in your own key word that you're a marketer in right now but you're gonna go ahead and take this tool this AMZ3 Pro you're gonna find all the keywords people are searching for an Amazon these buyer keywords that buyers are typing in just before they make a purchase on amazon then you could take those terms pump them into Keyword Grouper Pro and let Keyword Grouper Pro group them into these nice tight groups these are perfect just copy and paste into a PPC campaign whether it's Adwords or whether it's Bing or whether it's amazon amazon is really really hot right now it's really easy to get cheap clicks on amazon and get your products and services in front of buyers by basically using this tool because again you're seeing keywords others aren't seeing and so the bid prices are much lower that's one really good strategy for this so you can see how powerful this tool is i'm gonna go ahead and do a search further on from this I'm gonna expand these keywords further want to see how many more keywords we continue to get back from amazon so i've taken those 18,000 keywords I've clicked expand existing keywords again in AMZ3 Pro it then took those keywords and dug even further and you'll see now we have 26,603 key words that contain the word ipod or iPods in them and we can scroll through these I mean this is an enormous amount of keywords we just added eight thousand more keywords remember most free tools are going to find you about a thousand keywords maybe 2,000 keywords and that's where they're going to top out we've got 26,000 keywords and we could continue to click this button and go even further I'm not going to do that because I think you already get the point there's no other tool in the world like AMZ3 Pro let me ask a simple question let's imagine you took just one of these 26,000 keywords just one of them and you had a keyword that others weren't seeing there was almost no competition and you took that keyword and you dominated the search for that term whether it's Google search whether it's AdWords pay-per-click whether it's amazon PPC you just took this one term that got searched every single day by buyers and you dominated that one term how much could that be worth to you over the course of this year that's what we're talking about here now this tool is brand-new it's never been seen by anyone it's not been released to the public our developers have put this together for you if you'd like to jump in and see what this tool can do for your business there is a button below click that button order you'll be given a download link you can instantly download you can fire up AMZ3 Pro you can put your own keywords in and you can take the world's greatest amazon keyword research tool for spin for your own markets your own business you can then take those terms your competitors are not seeing those low competition terms you can take those terms you can plug them into your SEO you can put in your ecommerce sites you can build a brand new blog maybe you don't have a business maybe you want to take this will be the kind of cornerstone the foundation of the start of a new blog or business just basically taking this research and and finding your carving out your little spot in the corner of the internet find a little thing find a little niche that you can carve out for yourself so that's the power of this tool our plan is to sell just a hundred copies of this tool initially and that way we can really focus on customer service with those anyone has issues with this this will work on mac or pc it works best in chrome and firefox browsers so pretty much everyone has chrome or firefox installed on your mac or pc so pretty much universal to work on both those platforms you don't have to install anything once you get your download link you basically just open it up and put in your keywords and click start and you're off to the races it's really that easy there is some video training includes really simple because really the tool is that easy to use so you're going to take the video training if you need some help it's there if you need our help we give me the support email address we are there for you but we are going to limit this to right around a hundred copies as best we can simply because we don't really want thousands of people using this right away until we can really make sure we have the best product possible we've tested it thoroughly we've used it we've worked for that it works fantastic you've seen on this video how we've been using the tool so it works great but we'd like to limit it to just a hundred people right now and so we can test this with a larger audience and really make sure every little thing is working just great and then we might decide to release the future we may not just depends but for now you have this opportunity and I wanted to give you first dibs at this if you want this product if you want to see what this tool can do for your business go ahead and click that button below and order and then we'll deliver the download to you right away and you can get started with AMZ3 Pro I really appreciate you taking the time check this out and I hope you've learned something in this video that will help you grow your business this year