What Are YouTube Channel Keywords
In this video, you'll find out exactly what channel keywords are on YouTube, and how you should use them.
Channel keywords are a bit of an unknown as to how exactly YouTube uses these when ranking your videos. It is most likely they are a factor of the overall ranking algorithm, though not as important a factor as the Title of your video.
How To Pick Your YouTube Channel Keywords
While the most important ranking factor is the title of the video, you still want to pick YouTube channel keywords that accurately describe the types of videos that you create, so that any SEO factor weight in this area will go in your favor at YouTube search.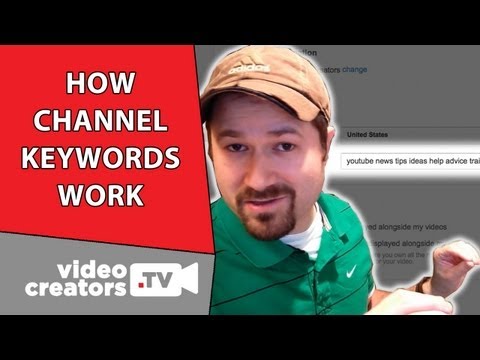 Keyword research is an important part of any content strategy and the same goes for video in this tutorial we're going to take a look at some of my favorite keyword research tools some new tools to the marketplace and if you stick around a strategy you can use right away to increase the rank your videos i'll be using the silly video my dog as an example for this tutorial I don't expect it to rank well but let's see if there any opportunities a fast and easy way to get started is to jump right into the search bar on youtube type in some searches and look at the suggested terms for ideas to do this a bit faster i recommend using uber suggest it doesn't look pretty but if you enter a keyword up top you'll see all the suggested searches across the entire alphabet below click the plus sign next to the keywords that interest you and you can easily copy and paste your findings later once i have some general keyword ideas i like to head over to Adwords Keyword tool or keyword planner just log into your AdWords account and select keyword planner under the Tools menu type or paste any keywords you're interested in and click get ideas you have to click over to the keyword ideas tab and you can see the monthly search volume for the words you entered as well some additional keyword ideas i like to go through and click the Add to plan button on the key words I like those will let me easily copy and paste or download the list of keywords but I'm done google trends is great for well trends and seasonality of keywords here we see that we've been going through a bit of a funny dog videos resurgence searches were way up in 2006 and then tank for years for the 2006 release and Tim Allen shaggy-dog be the culprit I like to think so sometimes you'll also spot some good keyword ideas in the top and rising section if I'm starting with a very broad or competitive keyword used market samurai to find a long tail opportunities they have keyword research tools to expand and filter list of keyword ideas and then bulk analyze and based on rules you define i just created a list of 700-plus keywords and whittled it down to 30 that have high SEO value and low title and Link competition i can then take these keywords and see how they perform on youtube now Google shut down the youtube keyword to a while ago with little to no backlash because it wasn't that great i've been using a new tool called video sense that i really like when you add a keyword to a campaign you instantly see highly correlated keywords in youtube search results plus the monthly weekly search volume for that keyword on youtube the channels that are ranking the videos that are ranking and the metrics for those same videos so looks like video ranked number 12 has a low view count no likes it was uploaded a few days ago so this keyword is totally doable video sense also lets you copy any videos title description or tags this is great for research but never just copy the same tags as another video and use them outright that's a spammy tactic that youtube is already on the look for another way to gather competitive intelligence and view tags is installing the vid IQ vision plugin for google chrome it will automatically show the tags and additional information of any video you watch on youtube the basic plugin is free but you can upgrade to the pro level for additional features and keyword research data no matter where you get your keyword research data it's important to gather your findings in one place i use my youtube upload checklist for the video I'm optimizing and create new spreadsheets for any new video ideas i might get while researching you can use my shield like looking here which brings us to our super effective super freaky word strategy check back one month after you upload a video check back and see if the keywords you chose are working or not and YouTube analytics you can see exactly what keywords are driving new viewers to a video are the keywords you chose to optimize for if so that's awesome but are there other keywords driving views you didn't optimized for there may be opportunities to add those keywords into your videos title description and tags you may be able to increase your rank and viewership by leaning in to what's already working so there you have it if you have any questions about keyword research please leave them in the comments below otherwise you put a couple of other tutorials for you and a button you can click to become a video SEO subscriber we put out new tutorials every week and we'd love to have you part of the community look at that I just got a new email subscriber you can become an email subscribers well video SEO com flash drive