How To Add Your Negative Keyword List Inside Your Google Adwords Campaign
In this short video, I'll show you how easy it is to add negative keywords to your Adwords campaigns.
You can add negative keywords and both the Adgroup level and the Campaign level, or both. This video will also show you the proper way to add Broad, Phrase, and Exact match negative keyword types.
Negative Keywords Will Improve Your Ad Relevance and CTR%
Once you add your negative keyword lists to your campaigns, you will be able to get more clicks at a lower cost and be sure that your Adwords PPC ads are only showing to the correct target audience.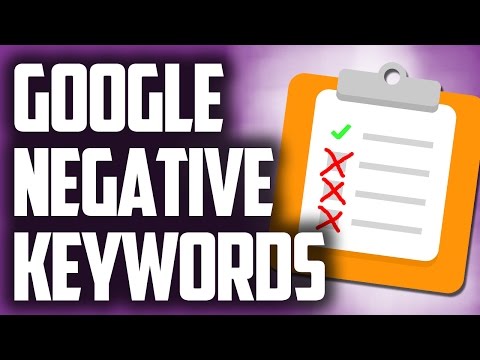 Adding negative keywords in Google AdWords is very simple let me show you how to do this so the first thing you want to do is go to http://adwords.google.com you need to log into your AdWords account and then once you've logged in you just click on the campaign's tab and select the campaign that you want to add negative keywords to and then you'll be given an option to select the keywords tab and you click on the keywords tab and then lastly you want to click on this negative keywords tab here and then you'll need to choose the ad group that you want to add negative keywords – and lastly you'll want to add the specific negative keywords there's broad match negative keywords phrase match negative keywords an exact match negative keywords and if you want to know the difference between the three if you're not familiar with those three match types there's a link in the description to the video we created on negative keyword match types so it's very easy to add negative keywords inside Google AdWords to make sure your ads are only showing to the target audience that you want to reach