Find Keywords To Rank From Amazon.com
In this video, you'll see a live demonstration of how to rank for a keyword from Amazon.com. We'll use AMZ3 Pro to find thousands of great keywords, and then we'll talk about the most important keyword ranking factors at Google.com.
Once you know this information, you can then structure your pages correctly, so they can rank for your Amazon keywords very quickly. In this video, our page ranks in the Top 10 in under 5 minutes, using this method.
Amazon Keywords Are Easy To Find With AMZ3 Pro
Finding untapped keywords for Amazon is super easy with AMZ3 Pro. No other Amazon keyword research tool comes anywhere close to bringing back as many terms as this keyword tool. With a single search, you can discover thousands of hidden keywords that buyers are typing into Amazon.com every day.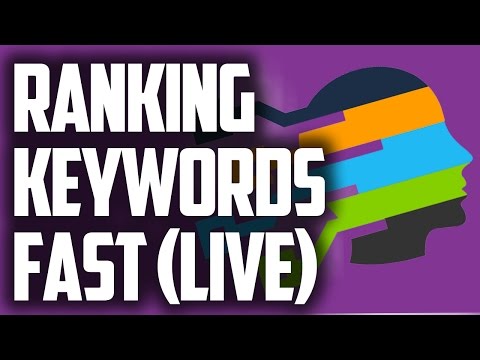 Ok so we pulled up AMZ3 Pro and we did a search for ipod we set the delay to 500 milliseconds and we went ahead and did a search for every single term people type in related to ipod in amazon and you'll see down here we got back 26,998 results let me show you what that file looks like when we export to csv okay so here's the file here and it contains it's the exported file from AMZ3 Pro it contains 26,998 keywords and we're going to go through here we're going to select the keyword to target so we can rank for quickly in google.com ok here's the key word we picked your ipod 5th generation docking station with speakers it has very little competition and it's going to be easy to rank for and then i'm going to show you how we use those ranking factors to make sure we get at least a Top 10 slot for this term pretty much in a matter of minutes let me show you how we analyze this keyword for competition and then i'll show you the blog post that we wrote and then we'll submit it and we'll see how quickly can drink so let's talk about really quickly what are the most important on page ranking factors right now in October 2016 with the latest updates so I'm just showing you a blurred screenshot here because i don't want to give away the test site we're using here and you can see in order of importance from most important to least important the individual elements so first of all in for a long time now keyword in title with the keyword toward the front is the most important ranking factor at google.com so that's number one number two is the keyword in the URL again toward the front of the URL string so putting that keyword in the URL of the page three is the key word in h1 tag toward the front number four is a little bit surprising it's a keyword in an internal link with the keyword in the linked page as the h1 tag that might be a little fuzzy there on the screen there for the recording but basically you put the keyword an internal link and the page that the link goes to that links to that page has the key word you're trying to rank for as an h1 tag was a little bit trickier to orchestrate but you can do it and that's not too hard to do just go to google and find a page that has the key word of the h1 tag the fifth most important factor is putting your keyword and the h3 tag of the page for the front six is keyword in italics seven is keyword in the body to anywhere in the body of the page 8 is the key word in H2 nine is the key word in the h4 10 is the key word in an external link so put the keyword in a link it's linking external into another page and 11 is the key word in the image alt so the alt text page and the image alt text of the page ok so these are the most important on page ranking factors as of october 2016 and we're gonna actually use this when we try and rank for this term that we just showed you here and we'll see if we can rank quickly just by using some of these different elements you don't have to use them all in fact you probably wouldn't want to use every single one it might look spammy but you could certainly use the most important ones and you pick some of these others or you can use the exact keyword for the most important features and then just use lsi terms for these other features in google understand the relation of the lsi terms to your parent keyword i'll head over here and i'm just going to show you this this is a tool we use in our company but you can do everything here pretty quickly just with browser so first what we did is we search for an all-in title using our keyword and quotes and you'll see here there's no results at all ok so no one's targeting this term in their title which is again it's a result of AMZ3 Pro bringing back keywords that other people aren't seeing so they're not actually targeting them in their SEO none in title there's almost none in text just one result here for allintext as far as the URL it's not in there and it's not in the anchor text either so so when you look at allintitle, allintext, allinURL and allinanchor and you see no results you know the page is not being targeted even when you have sites with a high domain authority so these are amazon results here bestbuy so they have a very high domain authority but the page Authority itself is very low and when you get no results back in allinanchor it just signifies there's not very much competition for these terms so you can do a quick search in your browser if you want to take the time for these long tail terms and this will depend on how much authority your site has already so keyword competition is a tricky thing because it's not that it comes down to any one tool that can somehow magically predict keyword competition keyword competition changes from site to site because your own site has a certain strength has a certain theme so we're gonna go ahead and do a quick test here with this keyword and we're gonna use MarketBold that actually MarketBold has nothing to do with electronics and absolutely nothing to do with ipods but it's just a quick way for us to test this keyword let me show you how you set this up and just put this video together for you quickly so you can get started using your own terms from AMZ3 Pro and ranking for those terms and it's a great time because we're getting into the holiday season and a time when ecommerce explodes in fact some businesses make most of our money in this holiday season here so it's a great time to use this method so let's go ahead and head over to MarketBold and i'll show you how we set up this content really quickly and then we'll post it and see if we can get it to rank ok so i jumped inside the MarketBold wordpress admin here and you'll see here i put the exact keyword as the the h1 here is that what this will become the h1 tag on the page it's also here it's in the URL ok so I'm just following that those ranking factors i showed you earlier in the video so pay attention of those so we've got in our h1 tag this is the URL we've got in the body text as an external link and the simple way to do this let me show you how easy it is to find this if you are not specific to which page you need to link to here's a way to find really relevant pages for that ok so let's assume for a second i don't care which page on amazon i want to link to I just want to find a page on amazon that google says is relevant for my keyword this is how you do that you do site specific search for amazon.com and then just put your keyword after that and you'll get back in order of relevance what Google says are the most relevant pages on amazon for your keyword in this case it's his first term right here so i'm just going to use this is my external link and we're going to do the same thing for you too because we're going to go ahead and just embed a YouTube video on this page so again site specific search using YouTube and then our keyword and then we just take this top video because google saying this is the most relevant video we have found on YouTube for your keyword and interestingly enough it doesn't even have this in the title and it's actually for a different docking station it is an adapter but we don't actually care because what Google is telling us is this is the most relevant video now we could pick the second and third we still be fine but I'm just gonna grab this first one and we use the embed code from youtube to paste it directly into our article and so we have a really relevant video that Google says relevant we have a relevant page from amazon and then we're ready to set the rest the article ok so we're back here at the article so here's the external link to the amazon page and then we've got an image of the actual docking station and the image alt of this image we put our keyword this is an h3 here this is an h4 here this is an H I'm sorry this is an h2 this is an h4 and then sprinkled throughout we have some italics so basically we just followed everything I showed you on those ranking factors that's it ok so once you have this in place you're ready to once you have your keywords everything in place everything laid out and for the actual content we just went to the Amazon post itself and just kind of used some of the features and things already outlined just use your own words to describe the the unit so again this really isn't anything about I don't really care about ipod speakers it's just to show you that you can take a term that AMZ3 Pro gives you that has low competition and then you can put that into whatever site you have your working with obviously you do keyword research around something you actually can use and promote this is just a case study here so I'm gonna take chrome which is a different browser where in firefox logged into our WordPress admin before I publish and i'm going to go ahead and do a search for this term ipod 5th generation docking station with speakers and you can see here this house how do I solve this number one heavy.com as number two Argos.co.uk is number three amazon.co.uk is number four ebay is number 5 ebay is number six so we're gonna try and rank in here for our term just by publishing the content that we got back the keyword that we got back from AMZ3 Pro so you'll see it's been about five minutes and we've already ranked for the term where number five here 12345 behind amazon and some of these other sites here but I haven't done any kind of back linking even with some basic backlinking using the keyword as the anchor text I could push this up and then as it gets clicks and traffic it would also push up I'm not gonna leave this up for very long simply because it has nothing to do with MarketBold's site I simply want to show you a quick case study on this so you can see how to do this for your own sites but take AMZ3 Pro take the keywords you get back and go ahead and take those terms that are long tail terms with almost no competition follow those ranking factors that i showed you in the previous part of the video and then put that to use for your own website you'll see here we refresh this again you'll notice here it is six minutes ago ok so this is a live result that's available on Google I don't know what will show like I said I'm gonna take this down after a couple days because it has absolutely nothing to do with our side but I just do this for a quick case study you can kind of see how this works and you can put it to use your business we do have some copies of am AMZ3 Pro left remember that this is a beta period for us the program completely works for having troubles with it but we're just releasing it slowly so we can do additional testing on it and get additional features added to the program so if you'd like to pick up AMZ3 Pro you'll want to click that button below and grab a copy and then you can go ahead and put in your own keywords whether it's ipod related or fishing or camping or books or whatever it is put in your own keywords get back the best keywords the most keywords from amazon and then take those terms follow the steps this video and go ahead and start ranking in the top 10 for your keywords just before the holiday season and there's a powerful little method here that you can use to get started right away getting rankings for keywords that buyers type in just before they're ready to buy a product