How Does The Google Keyword Planner (GAKP) Work?
In this video, I'll show you how to use the often overlooked product category feature in the Google Keyword Planner. Instead of putting in a keyword and finding related keywords, we just select a category and let Google give us lots of good keyword ideas related to that category.
The best part is that since the category groups on the Keyword Planner have so many ideas inside them, you can filter by specific words and continually get more and more keywords related to your market.
Google Keyword Planner Tip
When you search by product categories, make sure to use the Keywords to Include feature in the Keyword Planner. This allows you to find thousands of additional keywords that you would not see if you only kept the original category keywords that Google initially suggested.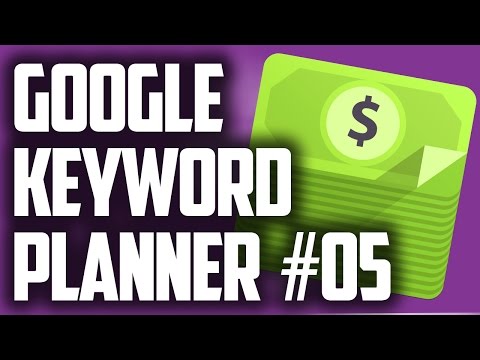 This is video number five in our google keyword planner advanced training series if you haven't seen the other videos if you click on the subscription button or you can click on the channel link and you can view those other videos where we talk about getting search volume how to get more keywords from each search now this video I'm going to show you how to use product categories really use them in a really unique ways that we get back a ton of extra keywords you remember in the very first video I mentioned that while everybody uses the google adwords keyword planner most people don't use it very uniquely they just simply go to the keyword planner put in some basic keywords download those and then try and use those so if you're going to get really good keywords from the Google Adwords Keyword planner it's helpful if you use the tool differently than everyone else is especially your competitors are using the tool and that's gonna show you how to do here so first of all go to http://adwords.google.com and once you've logged in you should see a page that looks like this here and we cover some alternatives for the adwords keyword search volume in the first video if that's what you're looking for go ahead and click on this search for new keywords using a phrase website or category we're actually going to leave this box empty and we're gonna leave this box empty we're going to come down in this box here and I'm just going to put in will go ahead and click through these you can see how this works will click on apparel and then we'll click on clothing and will click on children's clothing ok and then we'll just hit enter and click on get ideas so basically we've told Google to basically look in their category of children's clothing we haven't supplied the keyword and bring back as many keywords as possible that are relevant to this category so we're going to go ahead and let's search here and it should come up with results in just a second okay so you'll see right here there are 700 results that brought back you'll notice that as far as targeting is concerned I have all locations all languages google and i don't have any negative keywords here so we have 700 keywords that were returned here now here's the cool thing you can first of all you can click up here and you'll notice that unlike when you put keyword in you get this cool drop down box here and so you can pick any kind of you know any kind of category you can drill down even further and then once you've done that you can click get ideas and so this is one really neat way to do that again here so sometimes you do get errors like this one really unique way that you can just click through the categories and download them as opposed to going all the way back to the homepage and doing that again such a faster way to do that so once we have this pulled up here it's taking an unusual there we go so we have 700 terms here again we're in a different category now backpacks and utility bags and here's the cool thing you can do first of all I look down through these results notice i have this version back pack as two words i have a backpack as a single word and then down here i have backpacks as plural and we're going to use that information to get a bunch of keywords so this is what most people would do they come here they put in baby they would notice the product category most people just put in the key word but they put in this category they download these and they that would be their keyword list you know they would work from that we're going to go down here to keywords to include and we're going to put in one key word at a time so we're going to put in backpack as one word with no plural and we're going to hit save if you'll notice it will start to really look for these keywords again and watch what happens when it comes back and return to the keywords to us which again will just take a second here okay now you'll see we still have 700 terms here but notice they all include the word backpack so we instantly increase the number of keywords we're getting back by not just following the standard usage but by putting this here now we're going to do we're going to take this backpack we're going to make it plural of course we would have downloaded these keywords already and will click Save here and we'll wait for that to bring back results and again you can see we have 700 keywords that returned now they all have backpacks lastly we'll take this actually could be four we could do a two word with plural get that back see what kind of results we get back now you'll see we have 51 this actually brings really good information to us it tells us the majority of people are not using the two word version but there are some people and maybe your competitors are targeting this word at all and you could put this in an ad campaign you can put in your content to get some extra rankings for these terms there's 51 there and we'll go ahead and just remove the s one last time okay and then we got a 119 for the singular version now this is just with one single term using the product category feature we could do this for lots of different products that we sold and you should for both the singular version any spelling differences things like that download them each time and now you are going to be getting back a ton of extra key words you could also put it for brand names you could put it for colors a product like you know black black bracelets silver jewelry a gold chromed rims like that you know you can go you can think of any kind of modifiers another way to do it so there's plenty of options here for you but again just using the tool a little differently than everyone else you're going to get back much better results if you like this video go ahead and subscribe to the MarketBold channel right below give us a thumbs up if you appreciate this i do want to hear your comments are there any other ways that you found using this product category feature that you can share with us to give us even better ideas for how you like to use this product category or maybe some really great keywords you like to include that give you back some really great results leave that in the comments section below