Find Keywords For Your Business
In this video, I'll show you how to find the best keywords for your business, based on where you are located. We'll be using the targeting features available in the Google Adwords Keyword Tool.
Using this targeting info, you can get excellent demographic info for your target audience. If you want to know exactly what % of potential customers are typing in keywords in your local area near your business, you can use the Google Keyword Planner and this specific keyword research method.
Find Local Keywords For Your Ecommerce Business
This works for both brick and mortar local business' as well as online ecommerce store. Keywords are just the language of your target market, so knowing how to narrow down the keyword search volume by location targeting is an excellent way to get better estimates for the amount of search traffic you could expect to receive from your list of keywords.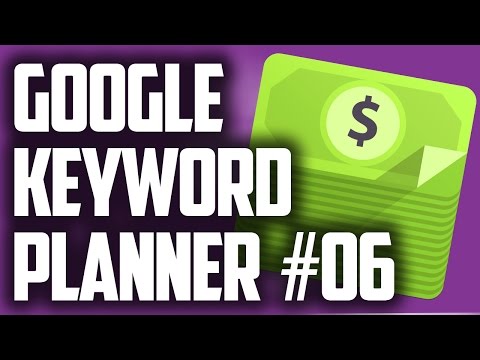 This is video 6 in our Google Adwords Keyword Planner advanced training In this video I'm going to show you how to take a look at targeting and how you can work with that data and use it to make more profit in your business so i'm over here at Google Adwords Keyword Planner Tool and I'm going to click on this search first option here and I'll just put in fishing i just keep it really broad and i'll just click get ideas just for the sample here and it's going to go ahead and bring back this data to us here now you'll notice that by default the search trends option is available someone asked a previous video where this was that you can actually toggle the chart here so if you do a search and you don't see that chart you can click on this toggle chart right here that should bring back this information here if you happen to be one of the individuals who is just getting back ranges instead of individual amounts and you do need a source for that search volume make sure to check out video number #1 I'll show you a free tool that you can use with Chrome to get the search volume figures back for the Google Adwords Keyword tool but in this video we're going to actually click this button right here and we're gonna go down to break down by location ok so breakdown by location we get some really interesting information here you know you'll notice that my initial targeting is all locations in other words worldwide you put in the keyword fishing and now we're going to see a graph here and it'll show us the percentages of the searches basically the keywords down here the percentages and based on which country so 42.5 percent of the search volume for these terms is coming from the United States eight percent is coming from united kingdom and 48.9 percent so nearly half is from the United States and the rest is made up of UK and 19 more other countries now what's really cool about this is we can come over here and if we change this to let's change it to united states will add that in and we'll save it and you'll watch what happens this graph will now update the information here and you'll see what happens next is now we have a breakdown of the individual states so California's 11-percent Texas is nine Florida's eight new york 5.5 Illinois 3.6 the other states are 61 percent so California now if I come over here and i put in California and I remove the United States there and click save and sure enough what you would guess what happened was we are now going to break it down by region within California and it's using this Nielsen Direct Marketing Association region value so Los Angeles forty-three percent of the searches down below were made in los angeles california and that's some pretty cool targeting you could use you can use this if you had an e-commerce store in a specific town or location and you want to target the terms that people are typing because it does change by region especially if things are popular one part of the country and they're not in another part of the country you can use it obviously if you had a physical store not even an e-commerce store and you just wanted to find ways that your market is talking online to get some information you can use it if you were going to target a specific location with advertising obviously that's the intent here is that you would you know you can restrict your ads only show my ads for fishing in Los Angeles and we could even break it down further than this but the main thing I wanted you to point out in this video was that this feature is available up here because a lot of people just kind of overlook this and they go straight to the keywords and the search volume don't really think about the targeting and the region's the demographics psycho-graphics these kinds of things so this is available up here for your demographic information and just know that you're targeting setting here affects the information you get here so you can do some really cool analysis and you can really target your ads to just you're right audience the people that are actually going to people that are actually going to become your customers and in the next video I'm going to show you how to do this for mobile and why it matters why you should actually take a look and see which keywords have mobile searches and what percentage of the searches are mobile searches there's a really important reason you need to take a look at that so make sure to watch the next video in our Google Adwords Keyword tool training series